Pump Solutions #1 Corporation
Providing the Best Pumps, Pump Accessories, and Customer Service
Baldor Single-Phase Motors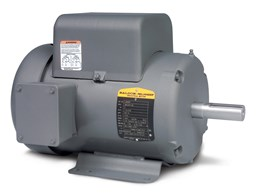 | Part No | Description | List Price |
| --- | --- | --- |
| CEL11307 | .75HP, 1750RPM, 1 PHASE, 60HZ, 56C, 3524LC, OPEN, F | $578.00 |
| CJL1205A | .33HP, 3450RPM, 1 PHASE, 60HZ, 56J, 3416L, OPEN, F1 | $308.00 |
| CJL1303A | .5HP, 3450RPM, 1 PHASE, 60HZ, 56J, 3420L, OPEN, F1 | $320.00 |
| CL1307 | .75HP, 1725RPM, 1 PHASE, 60HZ, 56C, 3428L, OPEN, F1 | Call |
| CL3507 | .75HP, 1725RPM, 1 PHASE, 60HZ, 56C, 3428LC, TEFC | $529.00 |
| CL3515T | 2HP, 3450RPM, 1 PHASE, 60HZ, 145TC, 3535L, TEFC, F1 | $823.00 |
| CL3608TM | 5HP, 3450RPM, 1 PHASE, 60HZ, 184TC, 3640LC, TEFC | $1,482.00 |
| JL1205A | .33HP, 3450RPM, 1 PHASE, 60HZ, 56J, 3416L, OPEN, F1 | $270.00 |
| JL1303A | .5HP, 3450RPM, 1 PHASE, 60HZ, 56J, 3420L, OPEN, F1 | $304.00 |
| JL1306A | .75HP, 3450RPM, 1 PHASE, 60HZ, 56J, 3424L, OPEN, F1 | $400.00 |
| JL1307A | .75HP, 1725RPM, 1 PHASE, 60HZ, 56J, 3428L, OPEN, F1 | $462.00 |
| JL1309A | 1HP, 3450RPM, 1 PHASE, 60HZ, 56J, 3428L, OPEN, F1, N | $414.00 |
| JL1313A | 1.5HP, 3450RPM, 1 PHASE, 60HZ, 56J, 3432LC, OPEN | $578.00 |
| JL1317A | 2HP, 3450RPM, 1 PHASE, 60HZ, 56J, 3528L, OPEN, F1 | $713.00 |
| JL1323A | 3HP, 3450RPM, 1 PHASE, 60HZ, 56J, 3535LC, OPEN, F1 | $732.00 |
| JL3503A | .5HP, 3450RPM, 1 PHASE, 60HZ, 56J, 3420L, TEFC, F1 | $359.00 |
| JL3506A | .75HP, 3450RPM, 1 PHASE, 60HZ, 56J, 3424L, TEFC, F1 | $427.00 |
| JL3509A | 1HP, 3450RPM, 1 PHASE, 60HZ, 56J, 3524L, TEFC, F1 | $522.00 |
| JL3513A | 1.5HP, 3450RPM, 1 PHASE, 60HZ, 56J, 3528L, TEFC, F1 | $619.00 |
| JL3515A | 2HP, 3450RPM, 1 PHASE, 60HZ, 56J, 3535L, TEFC, F1 | $727.00 |
| JML1406T | 3HP, 3450RPM, 1 PHASE, 60HZ, 182, JM, 3628L, OPEN, F | $987.00 |
| JML1408T | 3HP, 1725RPM, 1 PHASE, 60HZ, 184JM, 3634LC, OPEN | $1,132.00 |
| JML1409T | 5HP, 3500RPM, 1 PHASE, 60HZ, 184JM, 3634LC, OPEN, F | $1,394.00 |
| JML1508T | 5HP, 1745RPM, 1 PHASE, 60HZ, 213JM, 3727L, OPSB, F1 | $1,606.00 |
| JML1509T | 7.5HP, 3450RPM, 1 PHASE, 60HZ, 213JM, 3729L, OPEN | $2,000.00 |
| JML1510T | 7.5HP, 1725RPM, 1 PHASE, 60HZ, 215JM, 3744LC, OPEN | $2,115.00 |
| JML1511T | 10HP, 3450RPM, 1 PHASE, 60HZ, 215JM, 3740L, OPEN, F | $2,459.00 |
| JML1512T | 10HP, 1725RPM, 1 PHASE, 60HZ, 215JM, 3744LC, ODTF | $2,618.00 |
| JML3515TAZ | 2HP/3450RPM/1 PHASE/NEMA 145TCZ | Call |
| JML3606T | 3HP, 3450RPM, 1 PHASE, 60HZ, 182JM, 3634L, TEFC, F1 | $1,035.00 |
| JPL1406T | 3HP, 3450RPM, 1 PHASE, 60HZ, 182JP, 3628L, OPEN, F1 | $987.00 |
| JPL1408T | 3HP, 1725RPM, 1 PHASE, 60HZ, 182JP, 3634LC, OPEN | $1,132.00 |
| JPL1508T | 5HP, 1725RPM, 1 PHASE, 60HZ, 213JP, 3727L, OPSB, F1 | $1,606.00 |
| JPL1510T | 7.5HP, 1725RPM, 1 PHASE, 60HZ, 215JP, 3744LC, OPEN | $2,115.00 |
| JPL1511T | 10HP, 3450RPM, 1 PHASE, 60HZ, 215JP, 3740L, OPEN | $2,459.00 |
| KEL11203 | .25HP, 1725RPM, 1 PHASE, 60HZ, 56C, 3411LC, OPEN, F | $411.00 |
| KL1203 | .25HP, 1725RPM, 1 PHASE, 60HZ, 56C, 3411L, OPEN, F1 | Call |
| KL3403 | .25HP, 1725RPM, 1 PHASE, 60HZ, 56C, 3411L, TEFC, F1 | $363.00 |
| L1319M | 1.5HP, 1725RPM, 1 PHASE, 60HZ, 56/56H, 3528L, OPEN | $707.00 |
| L1322T | 2HP, 1725RPM, 1 PHASE, 60HZ, 145T, 3532LC, OPEN, F1 | $733.00 |
| L1409T | 5HP, 3450RPM, 1 PHASE, 60HZ, 184T, 3634L, OPEN, F1 | $1,026.00 |
| L1506 | 3HP, 1140RPM, 1 PHASE, 60HZ, 215, 3735LC, OPEN, F1 | $2,557.00 |
| L3403M | .25HP, 1725RPM, 1 PHASE, 60HZ, 48, 3411L, TEFC, F1 | $394.00 |
| L3501 | .33HP, 1725RPM, 1 PHASE, 60HZ, 56, 3414L, TEFC, F1 | $353.00 |
| L3607 | 1HP, 1140RPM, 1 PHASE, 60HZ, 184, 3634L, TEFC, F1 | $1,590.00 |
| L3613T | 1.5HP, 1140RPM, 1 PHASE, 60HZ, 184T, 3634LC, TEFC | $1,657.00 |
| L4003A | .25HP, 1725RPM, 1 PHASE, 60HZ, 48, X3411L, XPFC, F1 | $553.00 |
| L5023T | 1HP, 1725RPM, 1 PHASE, 60HZ, 143T, 3528L, XPFC, F1 | $980.00 |
| L5030T | 1.5HP, 3450RPM, 1 PHASE, 60HZ, 143T, X3528L, XPFC | $1,136.00 |
| PCL3515M | 2HP, 3450RPM, 1 PHASE, 60HZ, 56C, 3524LC, TEFC, F1 | $805.00 |
| PCL3519M | 3HP, 3450RPM, 1 PHASE, 60HZ, 56C, 3532LC, TEFC, F1 | $882.00 |
| VEL11301 | .33HP, 1740RPM, 1 PHASE, 60HZ, 56C, 3418LC, OPEN, F | $440.00 |
| VEL11303 | .5HP, 3450RPM, 1 PHASE, 60HZ, 56C, 3413LC, OPEN, F1 | $458.00 |
| VEL11304 | .5HP, 1725RPM, 1 PHASE, 60HZ, 56C, 3424LC, OPEN, F1 | $490.00 |
| VEL11306 | .75HP, 3450RPM, 1 PHASE, 60HZ, 56C, 3428LC, OPEN, F | $478.00 |
| VEL11307 | .75HP, 1750RPM, 1 PHASE, 60HZ, 56C, 3524LC, OPEN, F | $578.00 |
| VEM31108 | .5HP, 1725RPM, 3 PHASE, 60HZ, 56C, 3424M, OPEN, F1 | $525.00 |
| VJML3515TAZ | 2HP, 3500RPM, 1 PHASE, 60HZ, 145TCZ, 3528L, TEFC | Call |
| VJML3608Z | 5HP, 3450RPM, 1 PHASE, 60HZ, 184CZ, 3646LC, TEFC, F | Call |
| VL1301 | .33HP, 1725RPM, 1 PHASE, 60HZ, 56C, 3414L, OPEN, F1 | Call |
| VL1303 | .5HP, 3450RPM, 1 PHASE, 60HZ, 56C, 3413L, OPEN, F1 | Call |
| VL1304 | .5HP, 1725RPM, 1 PHASE, 60HZ, 56C, 3418L, OPEN, F1 | Call |
| VL1306 | .75HP, 3450RPM, 1 PHASE, 60HZ, 56C, 3420L, OPEN, F1 | $380.00 |
| VL1307 | .75HP, 1725RPM, 1 PHASE, 60HZ, 56C, 3428L, OPEN, F1 | Call |
| VL1309 | 1HP, 3450RPM, 1 PHASE, 60HZ, 56C, 3428L, OPEN, F1 | $400.00 |
| VL1310 | 1HP, 1725RPM, 1 PHASE, 60HZ, 56C, 3520L, ODTF, F1 | $512.00 |
| VL1313 | 1.5HP, 3450RPM, 1 PHASE, 60HZ, 56C, 3428LC, OPEN | $553.00 |
| VL1317 | 2HP, 3450RPM, 1 PHASE, 60HZ, 56C, 3528L, OPEN, F1 | $727.00 |
| VL1319 | 1.5HP, 1725RPM, 1 PHASE, 60HZ, 56C, 3528L, OPEN, F1 | $654.00 |
| VL1322T | 2HP, 1725RPM, 1 PHASE, 60HZ, 145TC, 3532LC, OPEN, F | $754.00 |
| VL1323A | 3HP, 3450RPM, 1 PHASE, 60HZ, 56C, 3535LC, OPEN, F1 | $773.00 |
| VL1406T | 3HP, 3450RPM, 1 PHASE, 60HZ, 182TC, 3532LC, ODTF | $916.00 |
| VL1408T | 3HP, 1725RPM, 1 PHASE, 60HZ, 184TC, 3634LC, OPEN | $927.00 |
| VL3503 | .5HP, 3450RPM, 1 PHASE, 60HZ, 56C, 3413L, TEFC, F1 | $376.00 |
| VL3504 | .5HP, 1725RPM, 1 PHASE, 60HZ, 56C, 3421L, TEFC, F1 | $435.00 |
| VL3506 | .75HP, 3450RPM, 1 PHASE, 60HZ, 56C, 3424L, TEFC, F1 | Call |
| VL3507 | .75HP, 1725RPM, 1 PHASE, 60HZ, 56C, 3428LC, TEFC | $498.00 |
| VL3509 | 1HP, 3450RPM, 1 PHASE, 60HZ, 56C, 3520L, TEFC, F1 | $481.00 |
| VL3510 | 1HP, 1725RPM, 1 PHASE, 60HZ, 56C, 3528L, TEFC, F1, N | $571.00 |
| VL3513 | 1.5HP, 3450RPM, 1 PHASE, 60HZ, 56C, 3524L, TEFC, F1 | $626.00 |
| VL3514 | 1.5HP, 1725RPM, 1 PHASE, 60HZ, 56C, 3532LC, TEFC, F | $647.00 |
| VL3515 | 2HP, 3450RPM, 1 PHASE, 60HZ, 56C, 3535L, TEFC, F1 | $801.00 |
| VL3605T | 2HP, 1725RPM, 1 PHASE, 60HZ, 182TC, 3628L, TEFC, F1 | $1,157.00 |
| VL3606T | 3HP, 3450RPM, 1 PHASE, 60HZ, 182TC, 3634L, TEFC, F1 | $1,291.00 |
| VL3609T | 3HP, 1725RPM, 1 PHASE, 60HZ, 184TC, 3634LC, TEFC | $1,366.00 |
| VL5005A | .5HP, 1140RPM, 1 PHASE, 60HZ, 56C, X3528L, XPFC, F1 | $1,149.00 |
| VL5007A | .75HP, 1725RPM, 1 PHASE, 60HZ, 56C, X3524L, XPFC | $920.00 |
| VL5024A | 1.5HP, 1725RPM, 1 PHASE, 60HZ, 56C, X3546L, XPFC | $1,379.00 |
Single phase pump motors
Baldor-Reliance single phase enclosed pump motors are available in different configurations:
Standard foot-mounted
C-Face foot mounted
C-Face footless
In TEFC designs choose from 1.5hp to 15hp.
Baldor Super-E® Premium Efficient motors are available from .25hp to 5hp.
Pump Solutions #1 Corporation is a full-service Baldor motors distributor offering a full selection of single phase electric pump motors.
We pride ourselves on service: contact us for help choosing the right motor for your application, lead times, shipping options, and volume pricing.
CONTACT US TODAY FOR EXPERT HELP
To fully use this site, please enable Javascript