Pump Solutions #1 Corporation
Providing the Best Pumps, Pump Accessories, and Customer Service
Baldor Three-Phase Motors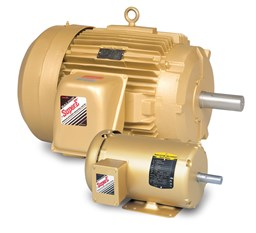 | Part No | Description | List Price |
| --- | --- | --- |
| 10E380Y344 | 30HP, 3515RPM, 3 PHASE, 60HZ, 286JM, 1036M, TEFC, F | $4,211.00 |
| 35A012P862G3 | .5HP, 1735RPM, 3 PHASE, 60HZ, 56C, 3513M, TEFC, F1 | Call |
| CEM2547T | 60HP, 1775RPM, 3 PHASE, 60HZ, 364TC, 4278M, OPSB, F | $7,198.00 |
| CEM3158T | 3HP, 3450RPM, 3 PHASE, 60HZ, 145TC, 3530M, OPSB, F1 | $764.00 |
| CEM3212T | 5HP, 3450RPM, 3 PHASE, 60HZ, 182TC, 3623M, OPSB, F1 | $862.00 |
| CEM3546 | 1HP, 1760RPM, 3 PHASE, 60HZ, 56C, 3519M, TEFC, F1, N | $672.00 |
| CEM3555T | 2HP, 3490RPM, 3 PHASE, 60HZ, 145TC, 3526M, TEFC, F1 | $831.00 |
| CEM3559T | 3HP, 3450RPM, 3 PHASE, 60HZ, 145TC, 3532M, TEFC, F1 | $927.00 |
| CEM3583T-5 | 1.5HP, 3500RPM, 3 PHASE, 60HZ, 143TC, 0520M, TEFC | $1,073.00 |
| CEM3610T | 3HP, 3450RPM, 3 PHASE, 60HZ, 182TC, 3532M, TEFC, F1 | $954.00 |
| CEM3610T-5 | 3HP, 3450RPM, 3 PHASE, 60HZ, 182TC, 3532M, TEFC, F1 | $954.00 |
| CEM3613T | 5HP, 3450RPM, 3 PHASE, 60HZ, 184TC, 3630M, TEFC, F1 | $1,051.00 |
| CEM3614T | 2HP, 1175RPM, 3 PHASE, 60HZ, 184TC, 3644M, TEFC, F1 | $1,106.00 |
| CEM3660T | 3HP, 3475RPM, 3 PHASE, 60HZ, 182TC, 0619M, TEFC, F1 | $1,196.00 |
| CEM3660T-5 | 3HP, 3460RPM, 3 PHASE, 60HZ, 182TC, 0619M, TEFC, F1 | $1,196.00 |
| CEM3708T | 5HP, 1160RPM, 3 PHASE, 60HZ, 215TC, 3748M, TEFC, F1 | $1,648.00 |
| CEM3711T | 10HP, 3490RPM, 3 PHASE, 60HZ, 215TC, 3729M, TEFC, F | $1,620.00 |
| CEM3713T | 15HP, 3500RPM, 3 PHASE, 60HZ, 215TC, 3752M, TEFC, F | $2,229.00 |
| CEM3769T | 7.5HP, 3510RPM, 3 PHASE, 60HZ, 213TC, 0726M, TEFC | $1,759.00 |
| CEM4106T | 20HP, 3520RPM, 3 PHASE, 60HZ, 256TC, 0936M, TEFC, F | $3,365.00 |
| CEM4107T | 25HP, 3520RPM, 3 PHASE, 60HZ, 284TSC, 0950M, TEFC | $4,441.00 |
| CEM4110T | 40HP, 1775RPM, 3 PHASE, 60HZ, 324TC, 1254M, TEFC, F | $6,619.00 |
| CEM4400T | 100HP, 1780, 3 PHASE, 60HZ, 405TC, M400MAG, TEFC | $15,168.00 |
| CEM7072T | 5//3HP, 3450//2900RPM, 3 PHASE, 60//50HZ, 184TC | $2,167.00 |
| CJM3104 | .33HP, 1725RPM, 3 PHASE, 60HZ, 56J, 3413M, OPEN, F1 | $383.00 |
| CJM3108 | .5HP, 1725RPM, 3 PHASE, 60HZ, 56J, 3416M, OPEN, F1 | $428.00 |
| CJM3112 | .75HP, 1725RPM, 3 PHASE, 60HZ, 56J, 3420M, OPEN, F1 | $459.00 |
| CJM3115 | 1HP, 3450RPM, 3 PHASE, 60HZ, 56J, 3420M, OPEN, F1 | $448.00 |
| CJM3538 | .5HP, 1725RPM, 3 PHASE, 60HZ, 56J, 3416M, TEFC, F1 | $475.00 |
| CM3555 | 2HP, 3450RPM, 3 PHASE, 60HZ, 56C, 3428M, TEFC, F1 | $605.00 |
| CSSWDM3541 | .75HP, 3450RPM, 3 PHASE, 60HZ, 56C, 3518M, TENV, F1 | $1,287.00 |
| EJMM2394T | 15HP, 3520RPM, 3 PHASE, 60HZ, 254JM, 0930M, TEFC, F | $3,091.00 |
| EJMM2514T | 20HP, 3510RPM, 3 PHASE, 60HZ, 254JM, 3928M, OPSB, F | $2,793.00 |
| EJMM2515T | 20HP/1765RPM/3 PHASE/OPSB/SUPER-E/256JM | $3,008.00 |
| EJMM2516T | 25HP, 3515RPM, 3 PHASE, 60HZ, 256JM, 3938M, OPSB, F | $3,310.00 |
| EJMM2534T | 30HP, 3510RPM, 3 PHASE, 60HZ, 284JM, 3948M, OPSB, F | $4,207.00 |
| EJMM2534T-5 | 30HP, 3530RPM, 3 PHASE, 60HZ, 284JM, 4040M, OPSB, F | $3,694.00 |
| EJMM2538T | 40HP, 3510RPM, 3 PHASE, 60HZ, 286JM, 3956M, OPSB, F | $5,065.00 |
| EJMM2542T | 50HP, 3550RPM, 3 PHASE, 60HZ, 324JM, 4248M, OPSB, F | $5,710.00 |
| EJMM3116T | 1HP, 1760RPM, 3 PHASE, 60HZ, 143JM, 3519M, OPSB, F1 | $707.00 |
| EJMM3155T | 2HP, 3450RPM, 3 PHASE, 60HZ, 145JM, 3524M, OPSB, F1 | $846.00 |
| EJMM3157T | 2HP, 1750RPM, 3 PHASE, 60HZ, 145JM, 3525M, OPSB, F1 | $837.00 |
| EJMM3158T | 3HP, 3450RPM, 3 PHASE, 60HZ, 145JM, 3530M, OPSB, F1 | $950.00 |
| EJMM3211T | 3HP, 1765RPM, 3 PHASE, 60HZ, 182JM, 3630M, OPSB, F1 | $926.00 |
| EJMM3212T | 5HP, 3450RPM, 3 PHASE, 60HZ, 182JM, 3623M, OPSB, F1 | $1,132.00 |
| EJMM3212T-G | 5HP, 3450RPM, 3 PHASE, 60HZ, 182JM, 3623M, OPSB, F1 | $1,299.00 |
| EJMM3218T | 5HP, 1760RPM, 3 PHASE, 60HZ, 184JM, 3640M, OPSB, F1 | $1,047.00 |
| EJMM3219T | 7.5HP, 3450RPM, 3 PHASE, 60HZ, 184JM, 3632M, OPSB | $1,338.00 |
| EJMM3311T | 7.5HP, 1770RPM, 3 PHASE, 60HZ, 213JM, 3733M, OPSB | $1,570.00 |
| EJMM3312T | 10HP, 3475RPM, 3 PHASE, 60HZ, 213JM, 3728M, OPSB, F | $1,723.00 |
| EJMM3314T | 15HP, 3500RPM, 3 PHASE, 60HZ, 215JM, 3734M, OPSB, F | $2,218.00 |
| EJMM3554T | 1.5HP, 1760RPM, 3 PHASE, 60HZ, 145JM, 3526M, TEFC | $881.00 |
| EJMM3555T | 2HP, 3490RPM, 3 PHASE, 60HZ, 145JM, 3526M, TEFC, F1 | $882.00 |
| EJMM3559T | 3HP, 3450RPM, 3 PHASE, 60HZ, 145JM, 3532M, TEFC, F1 | $947.00 |
| EJMM3610T | 3HP, 3450RPM, 3 PHASE, 60HZ, 182JM, 3532M, TEFC, F1 | $949.00 |
| EJMM3611T | 3HP, 1760RPM, 3 PHASE, 60HZ, 182JM, 3631M, TEFC, F1 | $1,044.00 |
| EJMM3613T | 5HP, 3450RPM, 3 PHASE, 60HZ, 184JM, 3630M, TEFC, F1 | $1,125.00 |
| EJMM3615T | 5HP, 1750RPM, 3 PHASE, 60HZ, 184JM, 3642M, TEFC, F1 | $1,047.00 |
| EJMM3709T | 7.5HP, 3520RPM, 3 PHASE, 60HZ, 213JM, 3728M, TEFC | $1,474.00 |
| EJMM3710T | 7.5HP, 1770RPM, 3 PHASE, 60HZ, 213JM, 3736M, TEFC | $1,593.00 |
| EJMM3711T | 10HP, 3490RPM, 3 PHASE, 60HZ, 215JM, 3729M, TEFC, F | $1,692.00 |
| EJMM4106T | 20HP, 3520RPM, 3 PHASE, 60HZ, 256JM, 0936M, TEFC, F | $3,404.00 |
| EJMM4107T | 25HP, 3525RPM, 3 PHASE, 60HZ, 284JM, 0946M, TEFC, F | $3,955.00 |
| EJMM4108T | 30HP, 3520RPM, 3 PHASE, 60HZ, 286JM, 1042M, TEFC, F | $5,439.00 |
| EJMM4109T | 40HP, 3530RPM, 3 PHASE, 60HZ, 324JM, 1058M, TEFC, F | $6,159.00 |
| EJMM4114T | 50HP, 3540RPM, 3 PHASE, 60HZ, 326JM, 1252M, TEFC, F | $7,453.00 |
| EJPM2333T | 15HP, 1765RPM, 3 PHASE, 60HZ, 254JP, 0944M, TEFC, F | $3,064.00 |
| EJPM2334T | 20HP, 1765RPM, 3 PHASE, 60HZ, 256JP, 0952M, TEFC, F | $3,457.00 |
| EJPM2394T | 15HP, 3525RPM, 3 PHASE, 60HZ, 254JP, 0930M, TEFC, F | $3,091.00 |
| EJPM2513T | 15HP, 1765RPM, 3 PHASE, 60HZ, 254JP, 3938M, OPSB, F | $2,511.00 |
| EJPM2514T | 20HP, 3510RPM, 3 PHASE, 60HZ, 254JP, 3928M, OPSB, F | $2,793.00 |
| EJPM2515T | 20HP, 1765RPM, 3 PHASE, 60HZ, 256JP, 3944M, OPSB, F | $3,008.00 |
| EJPM2516T | 25HP, 3515RPM, 3 PHASE, 60HZ, 256JP, 3938M, OPSB, F | $3,310.00 |
| EJPM2531T | 25HP, 1760RPM, 3 PHASE, 60HZ, 284JP, 4046M, OPSB, F | $3,578.00 |
| EJPM2534T | 30HP, 3510RPM, 3 PHASE, 60HZ, 284JP, 3948M, OPSB, F | $4,207.00 |
| EJPM2535T | 30HP, 1770RPM, 3 PHASE, 60HZ, 286JP, 4052M, OPSB, F | $4,286.00 |
| EJPM2538T | 40HP, 3510RPM, 3 PHASE, 60HZ, 286JP, 3956M, OPSB, F | $5,065.00 |
| EJPM2539T | 40HP, 1775RPM, 3 PHASE, 60HZ, 324JP, 4250M, OPSB, F | $5,210.00 |
| EJPM2542T | 50HP, 3550RPM, 3 PHASE, 60HZ, 324JP, 4248M, OPSB, F | $5,710.00 |
| EJPM2543T | 50HP, 1775RPM, 3 PHASE, 60HZ, 326JP, 4256M, OPSB, F | $6,025.00 |
| EJPM3312T | 10HP, 3475RPM, 3 PHASE, 60HZ, 213JP, 3728M, OPSB, F | $1,723.00 |
| EJPM3313T | 10HP, 1770RPM, 3 PHASE, 60HZ, 215JP, 3739M, OPSB, F | $1,698.00 |
| EJPM3314T | 15HP, 3500RPM, 3 PHASE, 60HZ, 215JP, 3734M, OPSB, F | $2,218.00 |
| EJPM4103T | 25HP, 1770RPM, 3 PHASE, 60HZ, 284JP, 1046M, TEFC, F | $4,097.00 |
| EJPM4104T | 30HP, 1770RPM, 3 PHASE, 60HZ, 286JP, 1056M, TEFC, F | $4,854.00 |
| EJPM4106T | 20HP, 3510RPM, 3 PHASE, 60HZ, 256JP, 0932M, TEFC, F | $3,404.00 |
| EJPM4107T | 25HP, 3525RPM, 3 PHASE, 60HZ, 284JP, 0946M, TEFC, F | $3,955.00 |
| EJPM4108T | 30HP, 3520RPM, 3 PHASE, 60HZ, 286JP, 1038M, TEFC, F | $5,439.00 |
| EJPM4109T | 40HP, 3530RPM, 3 PHASE, 60HZ, 324JP, 1058M, TEFC, F | $6,159.00 |
| EJPM4110T | 40HP, 1775RPM, 3 PHASE, 60HZ, 324JP, 1254M, TEFC, F | $6,310.00 |
| EJPM4114T | 50HP, 3540RPM, 3 PHASE, 60HZ, 326JP, 1252M, TEFC, F | $7,453.00 |
| EJPM4115T | 50HP, 1775RPM, 3 PHASE, 60HZ, 326JP, 1266M, TEFC, F | $7,585.00 |
| EM2513T | 15HP, 1765RPM, 3 PHASE, 60HZ, 254T, 3938M, OPSB, F1 | $2,367.00 |
| EM2514T | 20HP, 3510RPM, 3 PHASE, 60HZ, 254T, 3928M, OPSB, F1 | $2,402.00 |
| EM2534T | 30HP, 3530RPM, 3 PHASE, 60HZ, 284TS, 4040M, OPSB, F | $3,404.00 |
| EM2549T | 75HP, 3540RPM, 3 PHASE, 60HZ, 364TS, 4254M, OPSB, F | $7,926.00 |
| EM2552T-4 | 75HP, 1185RPM, 3 PHASE, 60HZ, 405T, ODP, FOOT, | $11,403.00 |
| EM3116T | 1HP, 1760RPM, 3 PHASE, 60HZ, 143T, 3519M, OPSB, F1 | $711.00 |
| EM3155T | 2HP, 3450RPM, 3 PHASE, 60HZ, 145T, 3524M, OPSB, F1 | $718.00 |
| EM3211T | 3HP, 1760RPM, 3 PHASE, 60HZ, 182T, 3630M, OPSB, F1 | $858.00 |
| EM3219T | 7.5HP, 3450RPM, 3 PHASE, 60HZ, 184T, 3632M, OPSB, F | $1,259.00 |
| EM3311T | 7.5HP, 1770RPM, 3 PHASE, 60HZ, 213T, 3733M, OPSB, F | $1,381.00 |
| EM3313T | 10HP, 1770RPM, 3 PHASE, 60HZ, 215, T, 3739M, OPSB, F | $1,672.00 |
| EM3314T | 15HP, 3490RPM, 3 PHASE, 60HZ, 215T, 3734M, OPSB, F1 | $2,045.00 |
| EM3559T | 3HP, 3450RPM, 3 PHASE, 60HZ, 143T, 3532M, TEFC, F1 | $871.00 |
| EM3613T | 5HP, 3450RPM, 3 PHASE, 60HZ, 184T, 3630M, TEFC, F1 | $978.00 |
| EM3615T | 5HP, 1750RPM, 3 PHASE, 60HZ, 184T, 3642M, TEFC, F1 | $919.00 |
| EM3708T | 5HP, 1160RPM, 3 PHASE, 60HZ, 215T, 3748M, TEFC, F1 | $1,524.00 |
| EM3709T | 7.5HP, 3500RPM, 3 PHASE, 60HZ, 213T, 3728M, TEFC, F | $1,465.00 |
| EM3710T | 7.5HP, 1770RPM, 3 PHASE, 60HZ, 213T, 3736M, TEFC | $1,326.00 |
| EM3711T | 10HP, 3490RPM, 3 PHASE, 60HZ, 215T, 3729M, TEFC, F1 | $1,485.00 |
| EM3714T | 10HP, 1770RPM, 3 PHASE, 60HZ, 215T, 3752M, TEFC, F1 | $1,497.00 |
| EM4103T | 25HP, 1770RPM, 3 PHASE, 60HZ, 284T, 1046M, TEFC, F1 | $3,657.00 |
| EM4104T | 30HP, 1760RPM, 3 PHASE, 60HZ, 286T, 1056M, TEFC, F1 | $4,338.00 |
| EM4106T | 20HP, 3520RPM, 3 PHASE, 60HZ, 256T, 0936M, TEFC, F1 | $2,766.00 |
| EM4107T | 25HP, 3525RPM, 3 PHASE, 60HZ, 284TS, 0946M, TEFC, F | $3,609.00 |
| EM4109T | 40HP, 3530RPM, 3 PHASE, 60HZ, 324TS, 1240M, TEFC, F | $5,877.00 |
| EM4110T | 40HP, 1775RPM, 3 PHASE, 60HZ, 324T, 1254M, TEFC, F1 | $5,673.00 |
| EM4118T | 25HP, 3520RPM, 3 PHASE, 60HZ, 256T, 0950M, TEFC, F1 | $3,226.00 |
| EM4310T | 60HP, 3550RPM, 3 PHASE, 60HZ, 364TS, 1452M, TEFC, F | $9,032.00 |
| EM4313T | 75HP, 3550RPM, 3 PHASE, 60HZ, 365TS, 1464M, TEFC, F | $10,507.00 |
| EM4404T | 75HP, 1185RPM, 3 PHASE, 60HZ, 405T, A4072M, TEFC, F | $14,371.00 |
| EM44206T-4 | 200HP, 1190RPM, 3 PHASE, 60HZ, 449T, A44160M, TEFC | $28,836.00 |
| EM7064T | 50//40HP, 1775//1475RPM, 3 PHASE, 60//50HZ, 326T | $12,818.00 |
| IDM3661T | 3HP, 1755RPM, 3 PHASE, 60HZ, 184TC, 0632M, TEBC, F1 | $2,509.00 |
| JM3006 | .33HP, 3450RPM, 3 PHASE, 60HZ, 56J, 3410M, OPEN, F1 | $320.00 |
| JM3107 | .5HP, 3450RPM, 3 PHASE, 60HZ, 56J, 3413M, OPEN, F1 | $338.00 |
| JM3111 | .75HP, 3450RPM, 3 PHASE, 60HZ, 56J, 3416M, OPEN, F1 | $401.00 |
| JM3115 | 1HP, 3450RPM, 3 PHASE, 60HZ, 56J, 3420M, OPEN, F1 | $446.00 |
| JM3120 | 1.5HP, 3450RPM, 3 PHASE, 60HZ, 56J, 3424M, OPEN, F1 | $532.00 |
| JM3155 | 2HP, 3450RPM, 3 PHASE, 60HZ, 56J, 3430M, OPEN, F1 | $632.00 |
| JM3158 | 3HP, 3450RPM, 3 PHASE, 60HZ, 56J, 3524M, ODTF, F1 | $750.00 |
| JM3457 | .33HP, 3450RPM, 3 PHASE, 60HZ, 56J, 3410M, TEFC, F1 | $351.00 |
| JM3460 | .5HP, 3450RPM, 3 PHASE, 60HZ, 56J, 3413M, TEFC, F1 | $380.00 |
| JM3463 | .75HP, 3450RPM, 3 PHASE, 60HZ, 56J, 3416M, TEFC, F1 | $416.00 |
| JM3545 | 1HP, 3450RPM, 3 PHASE, 60HZ, 56J, 3420M, TEFC, F1 | $496.00 |
| JM3550 | 1.5HP, 3450RPM, 3 PHASE, 60HZ, 56J, 3424M, TEFC, F1 | $514.00 |
| JM3555 | 2HP, 3450RPM, 3 PHASE, 60HZ, 56J, 3524M, TEFC, F1 | $615.00 |
| JM3559 | 3HP, 3450RPM, 3 PHASE, 60HZ, 56J, 3528M, TEFC, F1 | $707.00 |
| JM525 | 1HP, 3450RPM, 3 PHASE, 60HZ, 56J, 1718M, OPEN, F1, N | $335.00 |
| JM7071 | 2HP, 3450RPM, 3 PHASE, 60HZ, 56J, X3524M, XPFC, F1 | $980.00 |
| JM825 | 3HP, 3450RPM, 3 PHASE, 60HZ, 56J, 1924M, OPEN, F1 | $498.00 |
| JMM2394T | 15HP, 3480RPM, 3 PHASE, 60HZ, 254JM, 0748M, TEFC, F | $2,915.00 |
| JMM2394T-5 | 15HP, 3480RPM, 3 PHASE, 60HZ, 254JM, 0748M, TEFC, F | $2,915.00 |
| JMM2513T | 15HP, 1760RPM, 3 PHASE, 60HZ, 254JM, 3748M, OPSB | $2,049.00 |
| JMM2514T | 20HP, 3525RPM, 3 PHASE, 60HZ, 254JM, 3930M, OPSB | $2,461.00 |
| JMM2515T | 20HP, 1760RPM, 3 PHASE, 60HZ, 256JM, 3760M, OPSB, F | $2,484.00 |
| JMM2516T | 25HP, 3510RPM, 3 PHASE, 60HZ, 256JM, 3934M, OPSB, F | $3,049.00 |
| JMM2534T | 30HP, 3510RPM, 3 PHASE, 60HZ, 284JM, 3936M, OPSB | $3,127.00 |
| JMM2535T | 30HP, 1760RPM, 3 PHASE, 60HZ, 286JM, 3952M, OPSB | $3,529.00 |
| JMM2538T | 40HP, 3500RPM, 3 PHASE, 60HZ, 286JM, 3946M, OPSB | $4,593.00 |
| JMM2539T | 40HP, 1770RPM, 3 PHASE, 60HZ, 324JM, 4052M, OPSB, F | $4,575.00 |
| JMM2542T | 50HP, 3520RPM, 3 PHASE, 60HZ, 324JM, 4044M, OPSB, F | $4,997.00 |
| JMM2543T | 50HP, 1765RPM, 3 PHASE, 60HZ, 326JM, 4060M, OPSB, F | $5,205.00 |
| JMM2546T | 60HP, 3520RPM, 3 PHASE, 60HZ, 326JM, 4054M, OPSB | $6,220.00 |
| JMM3116T | 1HP, 1750RPM, 3 PHASE, 60HZ, 143JM, 3516M, OPSB, F1 | $607.00 |
| JMM3120T | 1.5HP, 3450RPM, 3 PHASE, 60HZ, 143JM, 3520M, OPSB | $632.00 |
| JMM3154T | 1.5HP, 1760RPM, 3 PHASE, 60HZ, 145JM, 3519M, OPSB | $599.00 |
| JMM3155T | 2HP, 3450RPM, 3 PHASE, 60HZ, 145JM, 3522M, OPSB, F1 | $700.00 |
| JMM3157T | 2HP, 1755RPM, 3 PHASE, 60HZ, 145JM, 3523M, OPSB, F1 | $685.00 |
| JMM3158T | 3HP, 3450RPM, 3 PHASE, 60HZ, 145JM, 3528M, OPSB, F1 | $742.00 |
| JMM3158T-5 | 3HP, 3450RPM, 3 PHASE, 60HZ, 145JM, 3526M, OPEN, F1 | $742.00 |
| JMM3211T | 3HP, 1745RPM, 3 PHASE, 60HZ, 182JM, 3536M, OPSB, F1 | $735.00 |
| JMM3211T-5 | 3HP, 1745RPM, 3 PHASE, 60HZ, 182JM, 3536M, OPEN, F1 | $735.00 |
| JMM3212T | 5HP, 3450RPM, 3 PHASE, 60HZ, 182JM, 3535M, OPSB, F1 | $834.00 |
| JMM3212T-5 | 5HP, 3450RPM, 3 PHASE, 60HZ, 182JM, 3535M, OPSB, F1 | $834.00 |
| JMM3218T | 5HP, 1750RPM, 3 PHASE, 60HZ, 184JM, 3630M, OPSB, F1 | $795.00 |
| JMM3218T-5 | 5HP, 1750RPM, 3 PHASE, 60HZ, 184JM, 3630M, OPSB, F1 | $795.00 |
| JMM3219T | 7.5HP, 3450RPM, 3 PHASE, 60HZ, 184JM, 3627M, OPSB | $1,020.00 |
| JMM3219T-5 | 7.5HP, 3450RPM, 3 PHASE, 60HZ, 184JM, 3627M, OPSB | $1,020.00 |
| JMM3311T | 7.5HP, 1750RPM, 3 PHASE, 60HZ, 213JM, 3644M, OPSB | $1,155.00 |
| JMM3312T | 10HP, 3500RPM, 3 PHASE, 60HZ, 213JM, 3726M, OPSB, F | $1,387.00 |
| JMM3312T-5 | 10HP, 3475RPM, 3 PHASE, 60HZ, 213JM, 3728M, OPSB, F | $1,387.00 |
| JMM3314T | 15HP, 3500RPM, 3 PHASE, 60HZ, 215JM, 3731M, OPSB, F | $1,864.00 |
| JMM3314T-5 | 15HP, 3500RPM, 3 PHASE, 60HZ, 215JM, 3731M, OPSB, F | $1,864.00 |
| JMM3546T | 1HP, 1750RPM, 3 PHASE, 60HZ, 143JM, 3516M, TEFC, F1 | $657.00 |
| JMM3550T | 1.5HP, 3450RPM, 3 PHASE, 60HZ, 143JM, 3520M, TEFC | $690.00 |
| JMM3554T | 1.5HP, 1755RPM, 3 PHASE, 60HZ, 145JM, 3521M, TEFC | $690.00 |
| JMM3554T-5 | 1.5HP, 1755RPM, 3 PHASE, 60HZ, 145JM, 3521M, TEFC | $690.00 |
| JMM3555T | 2HP, 3450RPM, 3 PHASE, 60HZ, 145JM, 3526M, TEFC, F1 | $769.00 |
| JMM3555T-5 | 2HP, 3450RPM, 3 PHASE, 60HZ, 145JM, 3526M, TEFC, F1 | $769.00 |
| JMM3558T | 2HP, 1750RPM, 3 PHASE, 60HZ, 145JM, 3524M, TEFC, F1 | $721.00 |
| JMM3558T-5 | 2HP, 1750RPM, 3 PHASE, 60HZ, 145JM, 3524M, TEFC, F1 | $721.00 |
| JMM3559T | 3HP, 3450RPM, 3 PHASE, 60HZ, 145JM, 3532M, TEFC, F1 | $862.00 |
| JMM3559T-5 | 3HP, 3450RPM, 3 PHASE, 60HZ, 145JM, 3535M, TEFC, F1 | $862.00 |
| JMM3610T | 3HP, 3450RPM, 3 PHASE, 60HZ, 182JM, 3532M, TEFC, F1 | $894.00 |
| JMM3610T-5 | 3HP, 3500RPM, 3 PHASE, 60HZ, 182JM, 3623M, TEFC, F1 | $894.00 |
| JMM3611T | 3HP, 1750RPM, 3 PHASE, 60HZ, 182JM, 3542M, TEFC, F1 | $862.00 |
| JMM3611T-5 | 3HP, 1750RPM, 3 PHASE, 60HZ, 182JM, 3542M, TEFC, F1 | $862.00 |
| JMM3613T | 5HP, 3450RPM, 3 PHASE, 60HZ, 184JM, 3626M, TEFC, F1 | $1,104.00 |
| JMM3613T-5 | 5HP, 3450RPM, 3 PHASE, 60HZ, 184JM, 3630M, TEFC, F1 | $1,104.00 |
| JMM3615T | 5HP, 1750RPM, 3 PHASE, 60HZ, 184JM, 3635M, TEFC, F1 | $964.00 |
| JMM3616T | 7.5HP, 3450RPM, 3 PHASE, 60HZ, 184JM, 3640M, TEFC | $1,249.00 |
| JMM3616T-5 | 7.5HP, 3450RPM, 3 PHASE, 60HZ, 184JM, 3640M, TEFC | $1,249.00 |
| JMM3709T | 7.5HP, 3450RPM, 3 PHASE, 60HZ, 213JM, 3640M, TEFC | $1,407.00 |
| JMM3710T | 7.5HP, 1770RPM, 3 PHASE, 60HZ, 213JM, 3731M, TEFC | $1,233.00 |
| JMM3710T-5 | 7.5HP, 1770RPM, 3 PHASE, 60HZ, 213JM, 3731M, TEFC | $1,233.00 |
| JMM3711T | 10HP, 3490RPM, 3 PHASE, 60HZ, 215JM, 3729M, TEFC, F | $1,682.00 |
| JMM3711T-5 | 10HP, 3490RPM, 3 PHASE, 60HZ, 215JM, 3729M, TEFC, F | $1,682.00 |
| JMM3713T | 15HP, 3480RPM, 3 PHASE, 60HZ, 215JM, 3748M, TEFC, F | $2,216.00 |
| JMM3713T-5 | 15HP, 3480RPM, 3 PHASE, 60HZ, 215JM, 3748M, TEFC, F | $2,216.00 |
| JMM4104T | 30HP, 1760RPM, 3 PHASE, 60HZ, 286JM, 0964M, TEFC, F | $4,333.00 |
| JMM4106T | 20HP, 3480RPM, 3 PHASE, 60HZ, 256JM, 0754M, TEFC, F | $3,208.00 |
| JMM4107T | 25HP, 3510RPM, 3 PHASE, 60HZ, 284JM, 0942M, TEFC, F | $3,603.00 |
| JMM4108T | 30HP, 3510RPM, 3 PHASE, 60HZ, 286JM, 0954M, TEFC, F | $4,716.00 |
| JMM4109T | 40HP, 3520RPM, 3 PHASE, 60HZ, 324JM, 1050M, TEFC, F | $5,661.00 |
| JMM4114T | 50HP, 3525RPM, 3 PHASE, 60HZ, 326JM, 1064M, TEFC, F | $6,174.00 |
| JMM7026T | 3HP, 3460RPM, 3 PHASE, 60HZ, 182JM, 3620M, XPFC, F1 | $1,466.00 |
| JMM7045T | 7.5HP, 3480RPM, 3 PHASE, 60HZ, 213JM, 3723M, XPFC | $2,610.00 |
| JMM7072T | 5HP, 3465RPM, 3 PHASE, 60HZ, 184JM, 3634M, XPFC, F1 | $1,981.00 |
| JMM7074T | 10HP, 3500RPM, 3 PHASE, 60HZ, 215JM, 3731M, XPFC, F | $2,956.00 |
| JMM7075T | 3HP, 3450RPM, 3 PHASE, 60HZ, 145JM, 3532M, XPFC, F1 | $1,466.00 |
| JMWDM3554T | 1.5HP, 1755RPM, 3 PHASE, 60HZ, 145JM, 3526M, TENV | $998.00 |
| JMWDM3555T | 2HP, 3450RPM, 3 PHASE, 60HZ, 143JM, 3526M, TEFC, F1 | $1,110.00 |
| JMWDM3559T | 3HP, 3450RPM, 3 PHASE, 60HZ, 145JM, 3532M, TEFC, F1 | $1,249.00 |
| JMWDM3613T | 5HP, 3450RPM, 3 PHASE, 60HZ, 184JM, 3626M, TEFC, F1 | $1,601.00 |
| JMWDM3616T | 7.5HP, 3450RPM, 3 PHASE, 60HZ, 184JM, 3640M, TEFC | $1,814.00 |
| JPM2333T | 15HP, 1760RPM, 3 PHASE, 60HZ, 254JP, 0756M, TEFC, F | $2,842.00 |
| JPM2334T | 20HP, 1760RPM, 3 PHASE, 60HZ, 256JP, 0760M, TEFC, F | $3,009.00 |
| JPM2394T | 15HP, 3480RPM, 3 PHASE, 60HZ, 254JP, 0748M, TEFC, F | $2,915.00 |
| JPM2513T | 15HP, 1760RPM, 3 PHASE, 60HZ, 254JP, 3748M, OPSB, F | $2,049.00 |
| JPM2514T | 20HP, 3525RPM, 3 PHASE, 60HZ, 254JP, 3930M, OPSB | $2,461.00 |
| JPM2515T | 20HP, 1760RPM, 3 PHASE, 60HZ, 256JP, 3760M, OPSB, F | $2,484.00 |
| JPM2516T | 25HP, 3510RPM, 3 PHASE, 60HZ, 256JP, 3934M, OPSB, F | $3,049.00 |
| JPM2531T | 25HP, 1760RPM, 3 PHASE, 60HZ, 284JP, 3942M, OPSB, F | $3,078.00 |
| JPM2534T | 30HP, 3510RPM, 3 PHASE, 60HZ, 284JP, 3936M, OPSB | $3,127.00 |
| JPM2535T | 30HP, 1760RPM, 3 PHASE, 60HZ, 286JP, 3952M, OPSB | $3,529.00 |
| JPM2538T | 40HP, 3500RPM, 3 PHASE, 60HZ, 286JP, 3946M, OPSB | $4,593.00 |
| JPM2539T | 40HP, 1770RPM, 3 PHASE, 60HZ, 324JP, 4052M, OPSB, F | $4,575.00 |
| JPM2542T | 50HP, 3520RPM, 3 PHASE, 60HZ, 324JP, 4044M, OPSB, F | $4,997.00 |
| JPM2543T | 50HP, 1765RPM, 3 PHASE, 60HZ, 326JP, 4060M, OPSB, F | $5,205.00 |
| JPM3158T | 3HP, 3450RPM, 3 PHASE, 60HZ, 145JP, 3528M, OPSB, F1 | $742.00 |
| JPM3211T | 3HP, 1745RPM, 3 PHASE, 60HZ, 182JP, 3536M, OPSB, F1 | $735.00 |
| JPM3212T | 5HP, 3450RPM, 3 PHASE, 60HZ, 182JP, 3535M, OPSB, F1 | $834.00 |
| JPM3218T | 5HP, 1750RPM, 3 PHASE, 60HZ, 184JP, 3630M, OPSB, F1 | $795.00 |
| JPM3219T | 7.5HP, 3450RPM, 3 PHASE, 60HZ, 184JP, 3627M, OPSB | $1,020.00 |
| JPM3311T | 7.5HP, 1770RPM, 3 PHASE, 60HZ, 213JP, 3731M, OPSB | $1,155.00 |
| JPM3313T | 10HP, 1760RPM, 3 PHASE, 60HZ, 215JP, 3733M, OPSB, F | $1,372.00 |
| JPM3314T | 15HP, 3500RPM, 3 PHASE, 60HZ, 215JP, 3731M, OPSB, F | $1,864.00 |
| JPM3555T | 2HP, 3450RPM, 3 PHASE, 60HZ, 145JP, 3526M, TEFC, F1 | $769.00 |
| JPM3558T | 2HP, 1750RPM, 3 PHASE, 60HZ, 145JP, 3524M, TEFC, F1 | $721.00 |
| JPM3559T | 3HP, 3450RPM, 3 PHASE, 60HZ, 145JP, 3532M, TEFC, F1 | $862.00 |
| JPM3610T | 3HP, 3450RPM, 3 PHASE, 60HZ, 182JP, 3532M, TEFC, F1 | $894.00 |
| JPM3611T | 3HP, 1750RPM, 3 PHASE, 60HZ, 182JP, 3542M, TEFC, F1 | $862.00 |
| JPM3613T | 5HP, 3450RPM, 3 PHASE, 60HZ, 184JP, 3626M, TEFC, F1 | $1,104.00 |
| JPM3615T | 5HP, 1750RPM, 3 PHASE, 60HZ, 184JP, 3635M, TEFC, F1 | $964.00 |
| JPM3616T | 7.5HP, 3450RPM, 3 PHASE, 60HZ, 184JP, 3640M, TEFC | $1,249.00 |
| JPM3710T | 7.5HP, 1770RPM, 3 PHASE, 60HZ, 213JP, 3731M, TEFC | $1,262.00 |
| JPM3714T | 10HP, 1770RPM, 3 PHASE, 60HZ, 215JP, 3740M, TEFC, F | $1,556.00 |
| JPM4103T | 25HP, 1760RPM, 3 PHASE, 60HZ, 284JP, 0954M, TEFC, F | $3,516.00 |
| JPM4104T | 30HP, 1760RPM, 3 PHASE, 60HZ, 286JP, 0964M, TEFC, F | $4,333.00 |
| JPM4106T | 20HP, 3480RPM, 3 PHASE, 60HZ, 256JP, 0754M, TEFC, F | $3,208.00 |
| JPM4107T | 25HP, 3510RPM, 3 PHASE, 60HZ, 284JP, 0942M, TEFC, F | $3,603.00 |
| JPM4108T | 30HP, 3510RPM, 3 PHASE, 60HZ, 286, JP, 0950M, TEFC | $4,716.00 |
| JPM4109T | 40HP, 3520RPM, 3 PHASE, 60HZ, 324JP, 1050M, TEFC, F | $5,661.00 |
| JPM4110T | 40HP, 1770RPM, 3 PHASE, 60HZ, 324JP, 1064M, TEFC, F | $5,456.00 |
| JPM4114T | 50HP, 3525RPM, 3 PHASE, 60HZ, 326JP, 1064M, TEFC, F | $6,174.00 |
| JPM4115T | 50HP, 1770RPM, 3 PHASE, 60HZ, 326JP, 1254M, TEFC, F | $6,396.00 |
| KM3454 | .25HP, 1725RPM, 3 PHASE, 60HZ, 56C, 3410M, TEFC, F1 | $329.00 |
| RM3108 | .5HP, 1725RPM, 3 PHASE, 60HZ, 56, 3416M, OPEN, F1 | $416.00 |
| VBM3546T | 1HP, 1725RPM, 3 PHASE, 60HZ, 143TC, BRAKE, 3426M | $1,330.00 |
| VBM3554T | 1.5HP, 1755RPM, 3 PHASE, 60HZ, 145TC, 3521M, TEFC | $1,493.00 |
| VBM3558T | 2HP, 1735RPM, 3 PHASE, 60HZ, 145TC, 3523M, TEFC, F1 | $1,530.00 |
| VDM3542 | .75HP, 1725RPM, 3 PHASE, 60HZ, 56C, 3428M, TEFC, F1 | $672.00 |
| VEM31104 | .33HP, 1725RPM, 3 PHASE, 60HZ, 56C, 3416M, OPEN, F1 | $479.00 |
| VEM31107 | .5HP, 3450RPM, 3 PHASE, 60HZ, 56C, 3416M, OPEN, F1 | $510.00 |
| VEM31111 | .75HP, 3450RPM, 3 PHASE, 60HZ, 56C, 3416M, OPEN, F1 | $508.00 |
| VEM31112 | .75HP, 1730RPM, 3 PHASE, 60HZ, 56C, 3516M, OPEN, F1 | $575.00 |
| VEM3546 | 1HP, 1760RPM, 3 PHASE, 60HZ, 56C, 3519M, TEFC, F1, N | $760.00 |
| VJML3709TZ | 35LC 2P TEFC VER 215YZ | Call |
| VJMM3158TSB | 3HP, 3450RPM, 3 PHASE, 60HZ, 143JM, 3528M, OPSB, F1 | Call |
| VJMM3212TSB | 5HP, 3450RPM, 3 PHASE, 60HZ, 182JM, 3535M, OPSB, F1 | Call |
| VJMM3219T | 7.5HP, 3450RPM, 3 PHASE, 60HZ, 184JM, 3627M, ODTF | Call |
| VJMM3219TSB | 7.5HP, 3450RPM, 3 PHASE, 60HZ, 184JM, 3627M, OPSB | Call |
| VJMM3555TZ | 2HP, 3450RPM, 3 PHASE, 60HZ, 145TCZ, 3516M, TEFC | $413.00 |
| VJMM3559TZ | 3HP, 3450RPM, 3 PHASE, 60HZ, 145TCZ, 3528M, TEFC | $1,038.00 |
| VJMM3613TZ | 5HP, 3425RPM, 3 PHASE, 60HZ, 184CZ, 3623M, TEFC, F1 | Call |
| VJMM3616TZ | 7.5HP, 3450RPM, 3 PHASE, 60HZ, 215YZ, 3723M, TEFC | Call |
| VJMM3710T | 7.5HP, 1770RPM, 3 PHASE, 60HZ, 213JM, 3731M, TEFC | $1,274.00 |
| VJMM3711TZ | 10HP, 3450RPM, 3 PHASE, 60HZ, 215YZ, 3735M, TEFC | Call |
| VM2333T | 15HP, 1760RPM, 3 PHASE, 60HZ, 254TC, 0756M, TEFC, F | $2,515.00 |
| VM2334T | 20HP, 1760RPM, 3 PHASE, 60HZ, 256TC, 0760M, TEFC, F | $2,944.00 |
| VM3104 | .33HP, 1725RPM, 3 PHASE, 60HZ, 56C, 3413M, OPEN, F1 | Call |
| VM3107 | .5HP, 3450RPM, 3 PHASE, 60HZ, 56C, 3410M, OPEN, F1 | Call |
| VM3108 | .5HP, 1725RPM, 3 PHASE, 60HZ, 56C, 3416M, OPEN, F1 | Call |
| VM3111 | .75HP, 3450RPM, 3 PHASE, 60HZ, 56C, 3413M, OPEN, F1 | Call |
| VM3112 | .75HP, 1725RPM, 3 PHASE, 60HZ, 56C, 3420M, OPEN, F1 | Call |
| VM3115 | 1HP, 3450RPM, 3 PHASE, 60HZ, 56C, 3416M, OPEN, F1 | $446.00 |
| VM3116 | 1HP, 1725RPM, 3 PHASE, 60HZ, 56C, 3424M, OPEN, F1 | $450.00 |
| VM3120 | 1.5HP, 3450RPM, 3 PHASE, 60HZ, 56C, 3424M, OPEN, F1 | $496.00 |
| VM3120T | 1.5HP, 3450RPM, 3 PHASE, 60HZ, 143TC, 3518M, OPEN | $572.00 |
| VM3154 | 1.5HP, 1725RPM, 3 PHASE, 60HZ, 56C, 3520M, OPEN, F1 | $517.00 |
| VM3155 | 2HP, 3450RPM, 3 PHASE, 60HZ, 56C, 3428M, OPEN, F1 | $577.00 |
| VM3155T | 2HP, 3450RPM, 3 PHASE, 60HZ, 143TC, 3522M, ODTF, F1 | $631.00 |
| VM3157 | 2HP, 1740RPM, 3 PHASE, 60HZ, 56C, 3521M, OPEN, F1, N | $535.00 |
| VM3157T | 2HP, 1755RPM, 3 PHASE, 60HZ, 145TC, 3523M, ODTF, F1 | $586.00 |
| VM3158 | 3HP, 3450RPM, 3 PHASE, 60HZ, 56C, 3524M, OPEN, F1 | $592.00 |
| VM3158T | 3HP, 3450RPM, 3 PHASE, 60HZ, 145TC, 3528M, OPEN, F1 | $671.00 |
| VM3161T | 3HP, 1745RPM, 3 PHASE, 60HZ, 145TC, 3536M, OPEN, F1 | $687.00 |
| VM3534 | .33HP, 1725RPM, 3 PHASE, 60HZ, 56C, 3413M, TEFC, F1 | $356.00 |
| VM3537 | .5HP, 3450RPM, 3 PHASE, 60HZ, 56C, 3410M, TEFC, F1 | $386.00 |
| VM3538 | .5HP, 1725RPM, 3 PHASE, 60HZ, 56C, 3416M, TEFC, F1 | $408.00 |
| VM3538-5 | .5HP, 1725RPM, 3 PHASE, 60HZ, 56C, 3416M, TEFC, F1 | $408.00 |
| VM3541 | .75HP, 3450RPM, 3 PHASE, 60HZ, 56C, 3413M, TEFC, F1 | $422.00 |
| VM3542 | .75HP, 1725RPM, 3 PHASE, 60HZ, 56C, 3420M, TEFC, F1 | $434.00 |
| VM3542-5 | .75HP, 1725RPM, 3 PHASE, 60HZ, 56C, 3420M, TEFC, F1 | $434.00 |
| VM3545 | 1HP, 3450RPM, 3 PHASE, 60HZ, 56C, 3416M, TEFC, F1 | $494.00 |
| VM3546 | 1HP, 1725RPM, 3 PHASE, 60HZ, 56C, 3426M, TEFC, F1, N | $453.00 |
| VM3550 | 1.5HP, 3450RPM, 3 PHASE, 60HZ, 56C, 3424M, TEFC, F1 | $537.00 |
| VM3550T | 1.5HP, 3450RPM, 3 PHASE, 60HZ, 143TC, 3520M, TEFC | $623.00 |
| VM3554 | 1.5HP, 1735RPM, 3 PHASE, 60HZ, 56C, 3520M, TEFC, F1 | $509.00 |
| VM3555 | 2HP, 3450RPM, 3 PHASE, 60HZ, 56C, 3428M, TEFC, F1 | $598.00 |
| VM3555T | 2HP, 3450RPM, 3 PHASE, 60HZ, 143TC, 3526M, TEFC, F1 | $710.00 |
| VM3558 | 2HP, 1735RPM, 3 PHASE, 60HZ, 56C, 3523M, TEFC, F1, N | $546.00 |
| VM3559 | 3HP, 3450RPM, 3 PHASE, 60HZ, 56C, 3528M, TEFC, F1 | $693.00 |
| VM3561 | 3HP, 1740RPM, 3 PHASE, 60HZ, 56C, 3535M, TEFC, F1, N | $726.00 |
| VM3610T | 3HP, 3450RPM, 3 PHASE, 60HZ, 182TC, 3532M, TEFC, F1 | $887.00 |
| VM3611T | 3HP, 1750RPM, 3 PHASE, 60HZ, 182TC, 3542M, TEFC, F1 | $711.00 |
| VM3613T | 5HP, 3450RPM, 3 PHASE, 60HZ, 184TC, 3626M, TEFC, F1 | $1,010.00 |
| VM3615T | 5HP, 1745RPM, 3 PHASE, 60HZ, 184TC, 3634M, TEFC, F1 | $814.00 |
| VM3616T | 7.5HP, 3450RPM, 3 PHASE, 60HZ, 184TC, 3640M, TEFC | $1,215.00 |
| VM3709T | 7.5HP, 3450RPM, 3 PHASE, 60HZ, 213TC, 3640M, TEFC | $1,527.00 |
| VM3710T | 7.5HP, 1770RPM, 3 PHASE, 60HZ, 213TC, 3731M, TEFC | $1,086.00 |
| VM3711T | 10HP, 3490RPM, 3 PHASE, 60HZ, 215TC, 3729M, TEFC, F | $1,588.00 |
| VM3713T | 15HP, 3480RPM, 3 PHASE, 60HZ, 215TC, 3748M, TEFC, F | $1,983.00 |
| VM3714T | 10HP, 1770RPM, 3 PHASE, 60HZ, 215TC, 3740M, TEFC, F | $1,293.00 |
| VM4103T | 25HP, 1760RPM, 3 PHASE, 60HZ, 284TC, 0954M, TEFC, F | $3,693.00 |
| VM4104T | 30HP, 1765RPM, 3 PHASE, 60HZ, 286TC, 1044M, TEFC, F | $3,765.00 |
| VM4106T | 20HP, 3480RPM, 3 PHASE, 60HZ, 256TC, 0754M, TEFC, F | $3,009.00 |
| VM4107T | 25HP, 3525RPM, 3 PHASE, 60HZ, 284TSC, 0942M, TEFC | $3,862.00 |
| VM4108T | 30HP, 3510RPM, 3 PHASE, 60HZ, 286, TSC, 0950M, TEFC | $4,139.00 |
| VM7005A | .5HP, 3450RPM, 3 PHASE, 60HZ, 56C, X3410M, XPFC, F1 | $861.00 |
| VM7009A | .75HP, 3450RPM, 3 PHASE, 60HZ, 56C, X3413M, XPFC | $890.00 |
| VM7013 | 1HP, 3450RPM, 3 PHASE, 60HZ, 56C, X3416M, XPFC, F1 | $927.00 |
| VM8002 | .75HP, 1725RPM, 3 PHASE, 60HZ, 56C, 3420M, TEFC, F1 | Call |
| VM8005T | 2HP, 1750RPM, 3 PHASE, 60HZ, 145TC, 0523M, TEFC, F1 | $969.00 |
| WCM3710T | 7.5HP, 1770RPM, 3 PHASE, 60HZ, 213TCZ, 3731M, TEFC | $1,233.00 |
3-Phase Pump Motors
Baldor-Reliance three phase enclosed pump motors are available in different configurations:
Totally enclosed cast iron
Industrial steel band
Baldor 3-phase motors can be mounted in any position.
Baldor Super-E® Premium Efficient motors (EM & CEM) are inverter ready standard and provide NEMA Premium efficiency with wide-range variable torque speeds.
Pump Solutions #1 Corporation is a full-service Baldor motors distributor carrying a full selection of three phase electric pump motors.
Contact us for assistance selecting the right motor for your application, lead times, shipping options & volume pricing.
CONTACT US TODAY FOR EXPERT HELP
To fully use this site, please enable Javascript