Pump Solutions #1 Corporation
Providing the Best Pumps, Pump Accessories, and Customer Service
Scot Pump All Bronze Pump Ends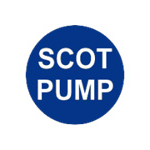 Request A Scot Pump Part Quote
Bronze Pump End
Part No.
Suction X Discharge
Seal Options
Impeller Diameters
Pump Construction
Motor
Frame
50B
2 X 1.5

BN-CARB/CM

VN-CARB/CM

VN-CARB/SIL

VN-SIL/SIL

EPDM-CARB/SIL

EPDM-SIL/SIL

5.13, 5.25, 5.38, 5.50, 5.63, 5.75, 5.88, 6.00, 6.13, 6.25, 6.38, 6.50

AB

140/180JM

52B
2.5 X 2

BN-CARB/CM

VN-CARB/CM

VN-CARB/SIL

VN-SIL/SIL

EPDM-CARB/SIL

EPDM-SIL/SIL

4.63, 4.75, 4.88, 5.00, 5.13, 5.25, 5.38, 5.50, 5.63, 5.75, 5.88, 6.00, 6.13, 6.25, 6.38, 6.50

AB

140/180JM, 210JM

53FB
2.5 X 2.5

BN-CARB/CM

VN-CARB/CM

VN-CARB/SIL

VN-SIL/SIL

EPDM-CARB/SIL

EPDM-SIL/SIL

5.38, 5.50, 5.63, 5.75, 5.88, 6.00, 6.13, 6.25, 6.38, 6.50

AB

140/180JM, 210JM

54FB
2.5 X 2.5

BN-CARB/CM

VN-CARB/CM

VN-CARB/SIL

VN-SIL/SIL

EPDM-CARB/SIL

EPDM-SIL/SIL

4.75, 4.88, 5.00, 5.13, 5.25, 5.38, 5.50, 5.63, 5.75, 5.88, 6.00, 6.13, 6.25, 6.38, 6.50

AB

140/180JM, 210JM

55FB
3 X 3

BN-CARB/CM

VN-CARB/CM

VN-CARB/SIL

VN-SIL/SIL

EPDM-CARB/SIL

EPDM-SIL/SIL

5.00, 5.13, 5.25, 5.38, 5.50, 5.63, 5.75, 5.88, 6.00, 6.13, 6.25, 6.38, 6.50

AB

140/180JM, 210JM, 250JM

56FB
3 X 3

BN-CARB/CM

VN-CARB/CM

VN-CARB/SIL

VN-SIL/SIL

EPDM-CARB/SIL

EPDM-SIL/SIL

4.63, 4.75, 4.88, 5.00, 5.13, 5.25, 5.38, 5.50, 5.63, 5.75, 5.88, 6.00, 6.13, 6.25, 6.38, 6.50

AB

140/180JM, 210JM, 250JM, 280/320JM

57B
4 X 3

BN-CARB/CM

VN-CARB/CM

VN-CARB/SIL

VN-SIL/SIL

EPDM-CARB/SIL

EPDM-SIL/SIL

5.25, 5.38, 5.50, 5.63, 5.75, 5.88, 6.00, 6.13, 6.25, 6.38, 6.50

AB

140/180JM, 250JM, 280/320JM

60B
1.5 X 1.25

BN-CARB/CM

VN-CARB/CM

VN-CARB/SIL

VN-SIL/SIL

EPDM-CARB/SIL

EPDM-CARB/CM

EPDM-SIL/SIL

4.13, 4.25, 4.38, 4.50, 4.63, 4.75, 4.88, 5.00, 5.13

AB

56J

62B
2 X 1.5

BN-CARB/CM

VN-CARB/CM

VN-CARB/SIL

VN-SIL/SIL

EPDM-CARB/SIL

EPDM-SIL/SIL

7.00, 7.13, 7.25, 7.38, 7.50, 7.63, 7.75, 7.88, 8.00, 8.13, 8.25, 8.38, 8.50, 8.63, 8.75, 8.88, 9.00

AB

140/180JM, 210JM, 210/250JM

63B
4 X 4

BN-CARB/CM

VN-CARB/CM

VN-CARB/SIL

VN-SIL/SIL

EPDM-CARB/SIL

EPDM-SIL/SIL

7.13, 7.25, 7.38, 7.50, 7.63, 7.75, 7.88, 8.00, 8.13, 8.25, 8.38, 8.50, 8.63, 8.75, 8.88, 9.00

AB

140/180JP, 210/250JP, 280/320JP, 360JP

151
1.5 X 1.5

BN-CARB/CM

VN-CARB/CM

VN-CARB/SIL

VN-SIL/SIL

EPDM-CARB/SIL

EPDM-CARB/CM

EPDM-SIL/SIL

2.50, 2.63, 2.75, 2.88, 3.00, 3.13, 3.25, 3.38, 3.50, 3.63, 3.75, 3.88, 4.00, 4.13, 4.25, 4.38

AB

56J

121
2.5 X 2.5

BN-CARB/CM

VN-CARB/CM

VN-CARB/SIL

VN-SIL/SIL

EPDM-CARB/SIL

EPDM-CARB/CM

EPDM-SIL/SIL

4.00, 4.50, 4.75, 5.13, 5.65

AB

140/180JM, 210JM

122
2.5 X 2.5

BN-CARB/CM

VN-CARB/CM

VN-CARB/SIL

VN-SIL/SIL

EPDM-CARB/SIL

EPDM-CARB/CM

EPDM-SIL/SIL

4.25, 4.63, 5.00, 5.38, 5.63

AB

140/180JM, 210JM

68B
1.25 X 1

BN-CARB/CM

VN-CARB/CM

VN-CARB/SIL

VN-SIL/SIL

EPDM-CARB/SIL

EPDM-CARB/CM

EPDM-SIL/SIL

3.25, 3.44

AB

56J

11B
1.25 X 1

BN-CARB/CM

VN-CARB/CM

VN-CARB/SIL

VN-SIL/SIL

EPDM-CARB/SIL

EPDM-CARB/CM

EPDM-SIL/SIL

3.50, 3.75, 4.00, 4.25, 4.50, 4.75, 4.88, 5.00

AB

56J

12B
1.25 X 1

BN-CARB/CM

VN-CARB/CM

VN-CARB/SIL

VN-SIL/SIL

EPDM-CARB/SIL

EPDM-CARB/CM

EPDM-SIL/SIL

4.00, 4.50, 5.00, 5.50, 5.63

AB

56J

16B
2 X 1.5

BN-CARB/CM

VN-CARB/CM

VN-CARB/SIL

VN-SIL/SIL

EPDM-CARB/SIL

EPDM-CARB/CM

EPDM-SIL/SIL

4.50, 4.63, 4.75, 4.88, 5.00, 5.13, 5.25, 5.38, 5.50

AB

140/180JM

17B
2 X 2

BN-CARB/CM

VN-CARB/CM

VN-CARB/SIL

VN-SIL/SIL

EPDM-CARB/SIL

EPDM-SIL/SIL

4.25, 4.38, 4.50, 4.63, 4.75, 4.88, 5.00, 5.13, 5.25, 5.38, 5.50

AB

140/180JM

18B
2.5 X 2

BN-CARB/CM

VN-CARB/CM

VN-CARB/SIL

VN-SIL/SIL

EPDM-CARB/SIL

EPDM-SIL/SIL

4.25, 4.38, 4.50, 4.63, 4.75, 4.88, 5.00, 5.13, 5.25, 5.38, 5.50, 5.63

AB

140/180JM
Scot Pump All Bronze Pump End Models
Find Scot Pump end models with all bronze construction and contact us to order. We always offer the most competitive pricing possible on Scot Pump products.
Brand: Scot Pump, Pump End Only
Type: Centrifugal
Material of Construction: Bronze
Get in touch to request pricing and lead time, or simply let us know what type of application you have and we'll be happy to assist.
To fully use this site, please enable Javascript