Valves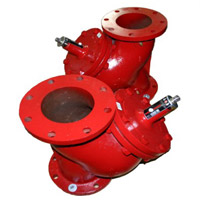 Ball - Butterfly - Check
Flexible Connectors
Y-Strainers, Suction Diffusers
Triple Duty Valves, Off-Set Connectors
Solenoids
AMT and Scot Pump Valves, Connectors, and Strainers
Control your pumps easily with our large variety of pump valves, connectors, and strainers.
Ball Valves are ideal for shutoff applications, due to their durability over time. Ball valves use a pivoting ball to control flow of the liquid. Butterfly Valves are similar to ball valves, except instead of a pivoting ball, butterfly valves have a rotating disc.
Check Valves are perfect for applications where you want to allow flow in one direction, but at the same time want to prohibit flow in the other direction.
Solenoid Valves are electromechanically operated. By using an electric current through a solenoid, they "automatically" control the flow of fluids. Multiple solenoid valves can be put together on a manifold.
Our flexible connectors are ideal for easily connecting pipes, pumps, and valves. Our Y-strainers are useful to help filter unwanted solids out of your fluid.