ARGAL Pumps in the USA
Quality Pumps from Italy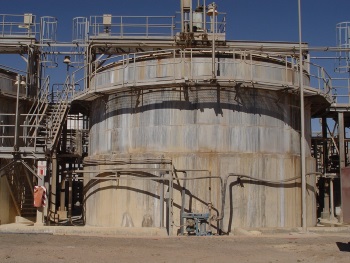 Specializing in the manufacture of thermoplastic chemical-resistant materials, Argal has over 30 years in the chemical pump industry. Argal has had ISO 9001 certification since 2002.
Construction materials offered:
Polypropylene (PP)
Glass Fiber Reinforced Polypropylene (GFR/PP)
E-CTFE (Ethylene ChloroTriFluoroEthylene)
CFF/E-CTFE (Acrylic Copolymer/Ethylene ChloroTriFluoroEthylene)
PVDF (Polyvinylidene Fluoride)
CFF/PVDF (Acrylic Copolymer/Polyvinylidene Fluoride)
Fiberglass Reinforced Plastic (FRP)
Argal Product Line
Argal's lineup of pumps covers a wide range of applications. Argal is an industry leader in pump innovation.
Horizontal Centrifugal Pumps
Manufactured with thermoplastic polymers, Argal's horizontal centrifugal pumps provide exceptional chemical resistance. They are engineered to be flooded at all times and there is no metallic contact with any of the pumped fluids.
Vertical Centrifugal Pumps
The electric motor on Argal's vertical centrifugal pumps (sump pumps) is always above the water line. There is no metallic contact with the liquid to be pumped. All vertical centrifugal pumps are engineered to handle destructive chemical liquids.
AODD Pumps
Argal's air-operated diaphragm pumps can be operated in challenging conditions or hazardous environments due to compressed air actuation. They handle dense, solid-laden, volatile, chemical, or neutral liquids. Argal AODD pumps are stall and lubricant free.
Self-Priming Pumps
Argal's self-priming pumps are either magnetic-drive or mechanically sealed. They feature a powerful mag-drive coupling with the option of an electric motor to increase power without affecting the performance of the hydraulics.
Applications of Argal Pumps
| | | | |
| --- | --- | --- | --- |
| Chemical & Petrochemical | Resins | Paint & Varnish | Electroplating & Semiconductor |
| Dyeing & Laundry | Ceramics | Cosmetic | Pharmaceutical |
| Textile & Leather | Mining | Lubricating | Explosives |
| Waste Treatment | Inks & Print | Naval | Metalworks |
| Construction Industry | Adhesives | Pulp & Paper | Enology |
| Agriculture & Biogas | Food & Dairy Factories | Drinks & Liquids | Sugar Industry |
Guaranteed Quality Pumps
Argal's pumps are produced entirely in Italy.