Pump Solutions #1 Corporation
Providing the Best Pumps, Pump Accessories, and Customer Service
Wet End Repair Kit List
| Part No | Description | List Price |
| --- | --- | --- |
| AB-05-B2-KIT | Manufacturer is All-Flo. Wet End Repair Kit for AB-05-B2. Pump Size 1/2", Bolted Style Pump, Metal Material | $87.10 |
| AB-05-KIT | Manufacturer is All-Flo. Wet End Repair Kit for AB-05. Pump Size 1/2", Bolted Style Pump, Metal Material | $83.90 |
| AB-10-B2-KIT | Manufacturer is All-Flo. Wet End Repair Kit for AB-10-B2. Pump Size 1", Bolted Style Pump, Metal Material | $193.20 |
| AB-10-KIT | Manufacturer is All-Flo. Wet End Repair Kit for AB-10. Pump Size 1", Bolted Style Pump, Metal Material | $157.10 |
| AB-15-20-B2-KIT | Manufacturer is All-Flo. Wet End Repair Kit for AB-15/20. Pump Size 1 1/2" - 2", Bolted Style Pump, Metal Material | $417.00 |
| AB-15-20-KIT | Manufacturer is All-Flo. Wet End Repair Kit for AB-15/20. Pump Size 1 1/2" - 2", Bolted Style Pump, Metal Material | $359.70 |
| AE-05-KIT | Manufacturer is All-Flo. Wet End Repair Kit for AE-05. Pump Size 1/2", Bolted Style Pump, Metal Material | $87.10 |
| AE-10-KIT | Manufacturer is All-Flo. Wet End Repair Kit for AE-10. Pump Size 1", Bolted Style Pump, Metal Material | $179.40 |
| AE-15-20-KIT | Manufacturer is All-Flo. Wet End Repair Kit for AE-15/20. Pump Size 1 1/2" - 2", Bolted Style Pump, Metal Material | $309.90 |
| AL-10E-KIT | Manufacturer is All-Flo. Wet End Repair Kit for AL-10E. Pump Size 1", Clamped Style Pump, Metal Material | $179.40 |
| AL-10-KIT | Manufacturer is All-Flo. Wet End Repair Kit for AL-10. Pump Size 1", Clamped Style Pump, Metal Material | $157.10 |
| AL-10T-KIT | Manufacturer is All-Flo. Wet End Repair Kit for AL-10T. Pump Size 1", Clamped Style Pump, Metal Material | $370.30 |
| AL-10V-KIT | Manufacturer is All-Flo. Wet End Repair Kit for AL-10V. Pump Size 1", Clamped Style Pump, Metal Material | $517.80 |
| AL-15-20-KIT | Manufacturer is All-Flo. Wet End Repair Kit for AL-15/20 | $359.70 |
| AL-15E-20E-KIT | Manufacturer is All-Flo. Wet End Repair Kit for AL-15E/20E | $309.90 |
| AL-15T-20T-KIT | Manufacturer is All-Flo. Wet End Repair Kit for AL-15T/20T | $832.90 |
| AL-30E-KIT | Manufacturer is All-Flo. Wet End Repair Kit for AL-30E. Pump Size 3", Bolted Style Pump, Metal Material | $429.80 |
| AL-30-KIT | Manufacturer is All-Flo. Wet End Repair Kit for AL-30. Pump Size 3", Bolted Style Pump, Metal Material | $437.20 |
| AL-30T-KIT | Manufacturer is All-Flo. Wet End Repair Kit for AL-30T. Pump Size 3", Bolted Style Pump, Metal Material | $1,395.20 |
| AL-30V-KIT | Manufacturer is All-Flo. Wet End Repair Kit for AL-30V. Pump Size 3", Bolted Style Pump, Metal Material | Call |
| AL-5E-KIT | Manufacturer is All-Flo. Wet End Repair Kit for AL-5E. Pump Size 1/2", Clamped Style Pump, Metal Material | $87.10 |
| AL-5-KIT | Manufacturer is All-Flo. Wet End Repair Kit for AL-5. Pump Size 1/2", Clamped Style Pump, Metal Material | $83.90 |
| AL-5T-KIT | Manufacturer is All-Flo. Wet End Repair Kit for AL-5T. Pump Size 1/2", Clamped Style Pump, Metal Material | $216.60 |
| AL-5V-KIT | Manufacturer is All-Flo. Wet End Repair Kit for AL-5V. Pump Size 1/2", Clamped Style Pump, Metal Material | $255.80 |
| AN-05-KIT | Manufacturer is All-Flo. Wet End Repair Kit for AN-05 | $74.00 |
| AN-10-KIT | Manufacturer is All-Flo. Wet End Repair Kit for AN-10 | $157.10 |
| AN-10-P15-KIT | Manufacturer is All-Flo. Wet End Repair Kit for AN-10-P15 | $133.00 |
| AN-15-KIT | **OBSOLETE. Replaced with AN-15-20-KIT** Manufacturer is All-Flo. Wet End Repair Kit for AN-15 | Call |
| AN-15-P28-KIT | Manufacturer is All-Flo. Wet End Repair Kit for AN-15 | $319.00 |
| AN-20-KIT | OBSOLETE. **Replaced with AN-15-20-KIT** Manufacturer is All-Flo. Wet End Repair Kit for AN-20. | Call |
| AN-20-P15-KIT | Manufacturer is All-Flo. Wet End Repair Kit for AN-20-P15 | $319.00 |
| AN-20-P30-KIT | Manufacturer is All-Flo. Wet End Repair Kit for AN-20-P30 | $319.00 |
| AN-30-KIT | Manufacturer is All-Flo. Wet End Repair Kit for AN-30 | $779.90 |
| AN-30-P15-KIT | Manufacturer is All-Flo. Wet End Repair Kit for AN-30-P15 | $406.00 |
| AT-05-KIT | Manufacturer is All-Flo. Wet End Repair Kit for AT-05. Pump Size 1/2", Bolted Style Pump, Metal Material | $216.60 |
| AT-10-KIT | Manufacturer is All-Flo. Wet End Repair Kit for AT-10. Pump Size 1", Bolted Style Pump, Metal Material | $370.30 |
| AT-15-20-KIT | Manufacturer is All-Flo. Wet End Repair Kit for AT-15/20. Pump Size 1 1/2" - 2", Bolted Style Pump, Metal Material | $843.50 |
| AV-05-KIT | Manufacturer is All-Flo. Wet End Repair Kit for AV-05. Pump Size 1/2", Bolted Style Pump, Metal Material | $255.80 |
| AV-10-KIT | Manufacturer is All-Flo. Wet End Repair Kit for AV-10. Pump Size 1", Bolted Style Pump, Metal Material | $517.80 |
| BK-025-KIT | Manufacturer is All-Flo. Wet End Repair Kit for BK-025. Pump Size 1/4", Box Style Pump, Plastic Material | $150.70 |
| BK-10E-KIT | Manufacturer is All-Flo. Wet End Repair Kit for BK-10E. Pump Size 1", Clamped Style Pump, Plastic Material | $205.90 |
| BK-10-KIT | Manufacturer is All-Flo. Wet End Repair Kit for BK-10. Pump Size 1", Clamped Style Pump, Plastic Material | $586.70 |
| BK-10V-KIT | Manufacturer is All-Flo. Wet End Repair Kit for BK-10V. Pump Size 1", Clamped Style Pump, Plastic Material | $539.00 |
| BK-15-20-KIT | Manufacturer is All-Flo. Wet End Repair Kit for BK-15/20 | $1,013.30 |
| BK-15E-20E-KIT | Manufacturer is All-Flo. Wet End Repair Kit for BK-15/20E | $348.10 |
| BK-5E-KIT | Manufacturer is All-Flo. Wet End Repair Kit for BK-5E. Pump Size 1/2", Clamped Style Pump, Plastic Material | $95.50 |
| BK-5-KIT | Manufacturer is All-Flo. Wet End Repair Kit for BK-5. Pump Size 1/2", Clamped Style Pump, Plastic Material | $241.00 |
| BK-5V-KIT | Manufacturer is All-Flo. Wet End Repair Kit for BK-5V. Pump Size 1/2", Clamped Style Pump, Plastic Material | $284.40 |
| CB-038-KIT | Manufacturer is All-Flo. Wet End Repair Kit for CB-038. Pump Size 3/8", Clamped Style Pump, Plastic Material | $71.20 |
| CN-5-KIT | Manufacturer is All-Flo. Wet End Repair Kit for CN-5. Pump Size 1/2", Clamped Style Pump, Plastic Material | $241.00 |
| CT-038-KIT | Manufacturer is All-Flo. Wet End Repair Kit for CT-038. Pump Size 3/8", Clamped Style Pump, Plastic Material | $299.30 |
| CT-05-KIT | Manufacturer is All-Flo. Wet End Repair Kit for CT-05. Pump Size 1/2", Bolted Style Pump, Plastic Material | $309.90 |
| CV-038-KIT | Manufacturer is All-Flo. Wet End Repair Kit for CV-038. Pump Size 3/8", Clamped Style Pump, Plastic Material | $197.40 |
| KE-038-KIT | Manufacturer is All-Flo. Wet End Repair Kit for KE-038. Pump Size 3/8", Clamped Style Pump, Plastic Material | $70.10 |
| KE-05-KIT | Manufacturer is All-Flo. Wet End Repair Kit for KE-05. Pump Size 1/2", Bolted Style Pump, Plastic Material | $117.90 |
| KE-10-KIT | Manufacturer is All-Flo. Wet End Repair Kit for KE-10. Pump Size 1", Bolted Style Pump, Plastic Material | $191.00 |
| KE-15-20-KIT | Manufacturer is All-Flo. Wet End Repair Kit for KE-15/20. Pump Size 1 1/2" - 2", Bolted Style Pump, Plastic Material | $418.10 |
| KN-025E-KIT | Manufacturer is All-Flo. Wet End Repair Kit for KN-025E. Pump Size 1/4", Box Style Pump, Plastic Material | $54.20 |
| KN-025-KIT | Manufacturer is All-Flo. Wet End Repair Kit for KN-025. Pump Size 1/4", Box Style Pump, Plastic Material | $150.70 |
| KN-10E-KIT | Manufacturer is All-Flo. Wet End Repair Kit for KN-10E. Pump Size 1", Clamped Style Pump, Plastic Material | $247.20 |
| KN-10-KIT | Manufacturer is All-Flo. Wet End Repair Kit for KN-10. Pump Size 1", Clamped Style Pump, Plastic Material | $443.60 |
| KN-10V-KIT | Manufacturer is All-Flo. Wet End Repair Kit for KN-10V. Pump Size 1", Clamped Style Pump, Plastic Material | $580.50 |
| KN-15-20-KIT | Manufacturer is All-Flo. Wet End Repair Kit for KN-15/20 | $1,062.00 |
| KN-15E-20E-KIT | Manufacturer is All-Flo. Wet End Repair Kit for KN-15/20E | $421.30 |
| KN-5E-KIT | Manufacturer is All-Flo. Wet End Repair Kit for KN-5E. Pump Size 1/2", Clamped Style Pump, Plastic Material | $117.90 |
| KN-5-KIT | Manufacturer is All-Flo. Wet End Repair Kit for KN-5. Pump Size 1/2", Clamped Style Pump, Plastic Material | $264.20 |
| KN-5V-KIT | Manufacturer is All-Flo. Wet End Repair Kit for KN-5V. Pump Size 1/2", Clamped Style Pump, Plastic Material | $306.70 |
| KT-038-KIT | Manufacturer is All-Flo. Wet End Repair Kit for KT-038. Pump Size 3/8", Clamped Style Pump, Plastic Material | $281.20 |
| KT-05-KIT | Manufacturer is All-Flo. Wet End Repair Kit for KT-05. Pump Size 1/2", Bolted Style Pump, Plastic Material | $283.40 |
| KT-10-KIT | Manufacturer is All-Flo. Wet End Repair Kit for KT-10. Pump Size 1", Bolted Style Pump, Plastic Material | $403.20 |
| KT-15-20-KIT | Manufacturer is All-Flo. Wet End Repair Kit for KT-15/20. Pump Size 1 1/2" - 2", Bolted Style Pump, Plastic Material | $1,064.10 |
| KV-038-KIT | Manufacturer is All-Flo. Wet End Repair Kit for KV-038. Pump Size 3/8", Clamped Style Pump, Plastic Material | $197.40 |
| KV-05-KIT | Manufacturer is All-Flo. Wet End Repair Kit for KV-05. Pump Size 1/2", Bolted Style Pump, Plastic Material | $333.30 |
| KV-10-KIT | Manufacturer is All-Flo. Wet End Repair Kit for KV-10. Pump Size 1", Bolted Style Pump, Plastic Material | $579.30 |
| NC-025E-KIT | Manufacturer is All-Flo. Wet End Repair Kit for NC-025E. Pump Size 1/4", Box Style Pump, Plastic Material | $54.20 |
| NC-025-KIT | Manufacturer is All-Flo. Wet End Repair Kit for NC-025. Pump Size 1/4", Box Style Pump, Plastic Material | $50.00 |
| NC-10-KIT | Manufacturer is All-Flo. Wet End Repair Kit for NC-10. Pump Size 1", Clamped Style Pump, Plastic Material | $183.60 |
| NC-15-20-KIT | Manufacturer is All-Flo. Wet End Repair Kit for NC-15/20 | $386.30 |
| NC-5-KIT | Manufacturer is All-Flo. Wet End Repair Kit for NC-5. Pump Size 1/2", Clamped Style Pump, Plastic Material | $91.30 |
| NC-5N-KIT | Manufacturer is All-Flo. Wet End Repair Kit for NC-5N. Pump Size 1/2", Clamped Style Pump, Plastic Material | $76.00 |
| NN-05-KIT | Manufacturer is All-Flo. Wet End Repair Kit for NN-05. Pump Size 1/2", Bolted Style Pump, Plastic Material | $76.00 |
| NN-10-KIT | Manufacturer is All-Flo. Wet End Repair Kit for NN-10. Pump Size 1", Clamped Style Pump, Plastic Material | $145.00 |
| NT-05-KIT | Manufacturer is All-Flo. Wet End Repair Kit for NT-05. Pump Size 1/2", Bolted Style Pump, Plastic Material | $252.00 |
| PB-038-KIT | Manufacturer is All-Flo. Wet End Repair Kit for PB-038. Pump Size 3/8", Clamped Style Pump, Plastic Material | $71.20 |
| PB-05-KIT | Manufacturer is All-Flo. Wet End Repair Kit for PB-05. Pump Size 1/2", Bolted Style Pump, Plastic Material | $95.50 |
| PB-10-KIT | Manufacturer is All-Flo. Wet End Repair Kit for PB-10. Pump Size 1", Bolted Style Pump, Plastic Material | $153.90 |
| PB-15-20-KIT | Manufacturer is All-Flo. Wet End Repair Kit for PB-15/20. Pump Size 1 1/2" - 2", Bolted Style Pump, Plastic Material | $374.60 |
| PE-038-KIT | Manufacturer is All-Flo. Wet End Repair Kit for PE-038. Pump Size 3/8", Clamped Style Pump, Plastic Material | $70.10 |
| PE-05-KIT | Manufacturer is All-Flo. Wet End Repair Kit for PE-05. Pump Size 1/2", Bolted Style Pump, Plastic Material | $98.70 |
| PE-10-KIT | Manufacturer is All-Flo. Wet End Repair Kit for PE-10. Pump Size 1", Bolted Style Pump, Plastic Material | $168.80 |
| PE-15-20-KIT | Manufacturer is All-Flo. Wet End Repair Kit for PE-15/20. Pump Size 1 1/2" - 2", Bolted Style Pump, Plastic Material | $362.90 |
| PN-05-KIT | Manufacturer is All-Flo. Wet End Repair Kit for PN-05 | $76.00 |
| PN-10-KIT | Manufacturer is All-Flo. Wet End Repair Kit for PN-10 | $138.00 |
| PN-15-20-KIT | Manufacturer is All-Flo. Wet End Repair Kit for PN-15/20. Pump Size 1-1/2" TO 2", Bolted Style Pump, Plastic Material | $347.00 |
| PN-15-KIT | Manufacturer is All-Flo. Wet End Repair Kit for PN-15 | $347.00 |
| PT-038-KIT | Manufacturer is All-Flo. Wet End Repair Kit for PT-038. Pump Size 3/8", Clamped Style Pump, Plastic Material | $220.80 |
| PT-05-KIT | Manufacturer is All-Flo. Wet End Repair Kit for PT-05. Pump Size 1/2", Bolted Style Pump, Plastic Material | $261.10 |
| PT-10-KIT | Manufacturer is All-Flo. Wet End Repair Kit for PT-10. Pump Size 1", Bolted Style Pump, Plastic Material | $379.90 |
| PT-15-20-KIT | Manufacturer is All-Flo. Wet End Repair Kit for PT-15/20. Pump Size 1 1/2" - 2", Bolted Style Pump, Plastic Material | $1,010.10 |
| PV-038-KIT | Manufacturer is All-Flo. Wet End Repair Kit for PV-038. Pump Size 3/8", Clamped Style Pump, Plastic Material | $197.40 |
| PV-05-KIT | Manufacturer is All-Flo. Wet End Repair Kit for PV-05. Pump Size 1/2", Bolted Style Pump, Plastic Material | $314.10 |
| PV-10-KIT | Manufacturer is All-Flo. Wet End Repair Kit for PV-10. Pump Size 1", Bolted Style Pump, Plastic Material | $557.10 |
| RD-025B-KIT | Manufacturer is All-Flo. Wet End Repair Kit for RD-025B. Pump Size 1/4", Box Style Pump, Plastic Material | $60.00 |
| RD-025-KIT | Manufacturer is All-Flo. Wet End Repair Kit for RD-025. Pump Size 1/4", Box Style Pump, Plastic Material | $81.00 |
| RD-10B-KIT | Manufacturer is All-Flo. Wet End Repair Kit for RD-10B. Pump Size 1", Clamped Style Pump, Plastic Material | $145.00 |
| RD-10-KIT | Manufacturer is All-Flo. Wet End Repair Kit for RD-10. Pump Size 1", Clamped Style Pump, Plastic Material | $346.00 |
| RD-5B-KIT | Manufacturer is All-Flo. Wet End Repair Kit for RD-5B. Pump Size 1/2", Clamped Style Pump, Plastic Material | $77.00 |
| RD-5-KIT | Manufacturer is All-Flo. Wet End Repair Kit for RD-5. Pump Size 1/2", Clamped Style Pump, Plastic Material | $252.00 |
| SB-05-KIT | Manufacturer is All-Flo. Wet End Repair Kit for SB-05. Pump Size 1/2", Bolted Style Pump, Metal Material | $139.10 |
| SB-10-KIT | Manufacturer is All-Flo. Wet End Repair Kit for SB-10. Pump Size 1", Bolted Style Pump, Metal Material | $285.50 |
| SB-15-20-KIT | Manufacturer is All-Flo. Wet End Repair Kit for SB-15/20. Pump Size 1 1/2" - 2", Bolted Style Pump, Metal Material | $547.50 |
| SE-05-KIT | Manufacturer is All-Flo. Wet End Repair Kit for SE-05. Pump Size 1/2", Bolted Style Pump, Metal Material | $143.30 |
| SE-10-KIT | Manufacturer is All-Flo. Wet End Repair Kit for SE-10. Pump Size 1", Bolted Style Pump, Metal Material | $307.70 |
| SE-15-20-KIT | Manufacturer is All-Flo. Wet End Repair Kit for SE-15/20. Pump Size 1 1/2" - 2", Bolted Style Pump, Metal Material | $498.70 |
| SN-05-KIT | Manufacturer is All-Flo. Wet End Repair Kit for SN-05 | $125.00 |
| SN-10-KIT | Manufacturer is All-Flo. Wet End Repair Kit for SN-10 | $259.00 |
| SN-10-P15-KIT | Manufacturer is All-Flo. Wet End Repair Kit for SN-10-P15 | $220.00 |
| SN-15-KIT | Manufacturer is All-Flo. Wet End Repair Kit for SN-15 | $540.00 |
| SN-15-P28-KIT | Manufacturer is All-Flo. Wet End Repair Kit for SN-15-P28 | $540.00 |
| SN-20-KIT | Manufacturer is All-Flo. Wet End Repair Kit for SN-20 | $540.00 |
| SN-20-P15-KIT | Manufacturer is All-Flo. Wet End Repair Kit for SN-20-P15 | $540.00 |
| SN-20-P30-KIT | Manufacturer is All-Flo. Wet End Repair Kit for SN-20-P30 | $540.00 |
| SP-05-KIT | Manufacturer is All-Flo. Wet End Repair Kit for SP-05. Pump Size 1/2", Bolted Style Pump, Metal Material | $271.70 |
| SP-10-KIT | Manufacturer is All-Flo. Wet End Repair Kit for SP-10. Pump Size 1", Bolted Style Pump, Metal Material | $487.00 |
| SP-15-20-KIT | Manufacturer is All-Flo. Wet End Repair Kit for SP-15/20. Pump Size 1 1/2" - 2", Bolted Style Pump, Metal Material | $1,028.10 |
| ST-10B-KIT | Manufacturer is All-Flo. Wet End Repair Kit for ST-10B. Pump Size 1", Clamped Style Pump, Metal Material | $285.50 |
| ST-10E-KIT | Manufacturer is All-Flo. Wet End Repair Kit for ST-10E. Pump Size 1", Clamped Style Pump, Metal Material | $307.70 |
| ST-10-KIT | Manufacturer is All-Flo. Wet End Repair Kit for ST-10. Pump Size 1", Clamped Style Pump, Metal Material | $487.00 |
| ST-10V-KIT | Manufacturer is All-Flo. Wet End Repair Kit for ST-10V. Pump Size 1", Clamped Style Pump, Metal Material | $635.60 |
| ST-15-20-KIT | Manufacturer is All-Flo. Wet End Repair Kit for ST-15/20 | $1,021.70 |
| ST-15B-20B-KIT | Manufacturer is All-Flo. Wet End Repair Kit for ST-15B/20B | $541.10 |
| ST-15E-20E-KIT | Manufacturer is All-Flo. Wet End Repair Kit for ST-15E/20E | $491.30 |
| ST-5B-KIT | Manufacturer is All-Flo. Wet End Repair Kit for ST-5B. Pump Size 1/2", Clamped Style Pump, Metal Material | $139.10 |
| ST-5E-KIT | Manufacturer is All-Flo. Wet End Repair Kit for ST-5E. Pump Size 1/2", Clamped Style Pump, Metal Material | $143.30 |
| ST-5-KIT | Manufacturer is All-Flo. Wet End Repair Kit for ST-5. Pump Size 1/2", Clamped Style Pump, Metal Material | $271.70 |
| ST-5V-KIT | Manufacturer is All-Flo. Wet End Repair Kit for ST-5V. Pump Size 1/2", Clamped Style Pump, Metal Material | $312.00 |
| STF-10B-KIT | Manufacturer is All-Flo. Wet End Repair Kit for STF-10B. Pump Size 1", Clamped Style Pump, Metal Material | $315.00 |
| STF-10E-KIT | Manufacturer is All-Flo. Wet End Repair Kit for STF-10E. Pump Size 1", Clamped Style Pump, Metal Material | $265.00 |
| STF-10-KIT | Manufacturer is All-Flo. Wet End Repair Kit for STF-10. Pump Size 1", Clamped Style Pump, Metal Material | $467.00 |
| SV-05-KIT | Manufacturer is All-Flo. Wet End Repair Kit for SV-05. Pump Size 1/2", Bolted Style Pump, Metal Material | $312.00 |
| SV-10-KIT | Manufacturer is All-Flo. Wet End Repair Kit for SV-10. Pump Size 1", Bolted Style Pump, Metal Material | $635.60 |
**$100.00 MINIMUM ORDER IS REQUIRED ON ALL-FLO PARTS/PUMP ORDERS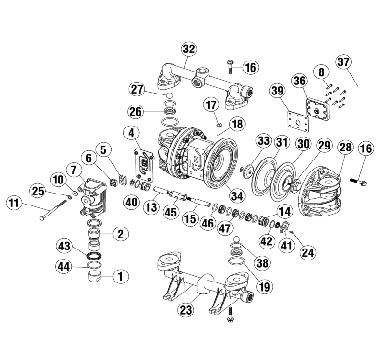 All-Flo Wet End Pump Repair Kits for Sale
All-Flo pump wet end repair kits are compatible with a wide range of All-Flo pump models. We have the best prices and service for All-Flo rebuild kits, replacement parts and rugged AODD pumps.
If you need help selecting the right repair kit for your air operated double diaphragm pump, contact us online or give us a call:
262-835-0774
Pump Solutions #1 Corporation is an authorized All-Flo distributor located in Franksville, Wisconsin. We sell All-Flo pumps and replacement pump parts online and provide pump repair and other services in Milwaukee, Racine, Kenosha and throughout southeast Wisconsin.
To fully use this site, please enable Javascript