Air Operated Diaphragm Pumps for Sale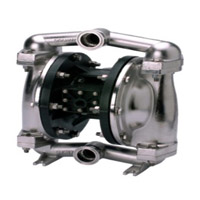 All Flo
1/4" - 3" Discharge
255 GPM
230' TDH
5 Year Warranty
Wisconsin Diaphragm Pump Distributor
Also referred to as an air operated diaphragm pump (AODD), pneumatic diaphragm pump, and a membrane pump, a diaphragm pump is a positive displacement pump using a reciprocating motion of a rubber-like diaphragm to suction substance from the entrance valve into a chamber when expanding and upon compression pushes the substance through the exiting valve.
One of the main benefits of air-operated diaphragm pumps is there's no need for lubrication.
CONTACT US TODAY For Pump Solutions!
Pneumatic Diaphragm Pumps from Leading Manufacturer
Pump Solutions #1 Corporation carries a wide selection of pumps and replacement parts from All-Flo.
Engineered for maximum fluid and chemical compatibility, the All-Flo 3-in. aluminum dual-diaphragm pump is a heavy-duty solution. The stall-free and non-metallic air section makes sure operation doesn't freeze or stall.
AODD Applications
Highlights of the All-Flo 3-in aluminum dual-diaphragm pump:
Suitable for use with

Clean fluids
Slurries
Up to 7/16-in. solids
Heavy duty air valve
Aluminum chamber
Included muffler
Rugged valve systems offer an almost endless range of operating conditions – from clean, water-like fluids to slurries, to solids applications. The bolted design provides simple maintenance and leak-free operation.
The All-Flo 3-in. dual-diaphragm air pump is versatile and durable.
Milwaukee-Area Membrane Pump Supplier Serving Midwest
Pump Solutions #1 Corporation is Wisconsin's best pump distributor. Contact us for pump information, product pricing or service. We provide expert pump solutions to customers in the Milwaukee area, Chicago, all of Wisconsin & Illinois and throughout the Midwest.