Pump Solutions #1 Corporation
Providing the best pumps, parts, motors & customer service.
Scot Motor Pump Bronze
Bronze Centrifugal Pumps from Scot Pump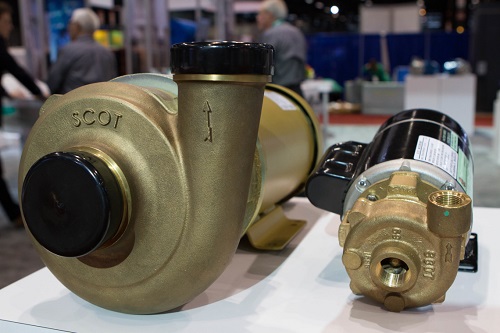 Pump Solutions #1 Corporation selling first-rate pump/motor assemblies from one of the top brand lines, Scot Pumps. Scot Pumps produces 6 different pump/motor assemblies.
Pump/motor assemblies are completely constructed in bronze, and built to last. Scot Motorpump products are durable, heavy duty and with simple construction making them easy to maintain.
Our bronze pumps impellers range from 5.5" to 9", which correlates with their revolutions per minute (RPM) ranging from 1750 to 3500. Scot Pumps pump/motor assemblies are totally enclosed and cooled by a fan (TEFC). The fan pulls air in from an external area and allows for it to circulate around the motor, thus cooling it off.
Standard TEFC motors are not submersible, nor are they protected against high pressure water. Scot pumps making your pump/motors extra durable by adding an OPEN Drip Proof (ODP). With an ODP the motor windings are protected from falling water, due to guards around the ventilation openings.
Pump Solutions #1 Corporation supplying industrial clients with the ultimate bronze pump/motor assemblies.
To fully use this site, please enable Javascript